The introduction of a growth enterprise board is an important step to develop a multi-layer stock market that can meet the fund-raising needs of various businesses.
While inviting public comments on the newly issued draft regulations, the regulators should keep in mind that the lower requirements for listing on the second board market necessitates stricter regulations to protect investors.
A vice-chairman of the China Securities Regulatory Commission assured in a recent online interview that the upcoming growth enterprise board for small start-ups to raise funds is no threat to the main stock market.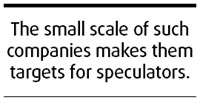 That judgment may be fairly true given that each growth enterprise may raise only 100-200 million yuan from the second board market. Actually, what appalls China's stock shareholders at present is some big companies' refinancing plans worth tens of billions of yuan.
It is easy to dismiss the fears of capital shortage that a second board may cause. But it is another thing to manage the risks of the new board which is expected to open on the Shenzhen Stock Exchange in the first half of this year.
China has postponed the establishment of a second board market for small start-ups since the global dotcom bubble burst around 2000. The failure of second board markets in other economies have alerted Chinese regulators to the danger of introducing it in a rush.
However, lack of finance remains a big problem for China's 42 million small and medium-sized enterprises.
Rapid expansion of the Chinese stock market and the development of a large number of high-tech start-ups in recent years have seemingly persuaded the market watchdog that it is time to bring them together. A well-functioning second board may help render some of these small start-ups into high-tech giants to facilitate the country's industrial upgrading.
Besides, a series of reforms to address non-tradable State shares and related legislation to lower the capitalization requirements for start-ups have all helped pave the way for the introduction of a growth enterprise board.
These conditions may be mature enough now, but the watchdog's regulatory capacity is a cause for concern as securities frauds still run rampant in the main board market.
The small scale of companies listed on the second board market often makes them easy targets for speculators. It is a demanding task for the regulators to effectively protect public investors in a market that tends to be more volatile than the existing one.
(China Daily 03/27/2008 page8)