Sinopec, one of China's two largest oil companies, announced yesterday that it received a subsidy of 12.3 billion yuan ($1.7 billion) for its losses in the refinery business.
It is likely that the jaw-dropping subsidy will spark another round of public complaints. This is the third year that this oil giant has got such a handsome subsidy while reporting overall profits of tens of billions of yuan.
Many people doubt the legitimacy to pay such money to a company that is a beneficiary of the State monopoly in the oil industry.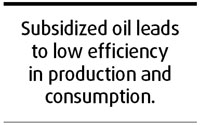 But the authorities insist that the extra expenditure is necessary to sustain the government's tight control over retail oil prices, which is essential to reining in rising consumer inflation.
However, the problem is that the astronomical subsidy accounts for only a part, if not a small one, of the real costs that the country is paying for the current oil pricing mechanism. The increasingly negative impact it exerts upon our efforts to improve energy efficiency justifies a thorough examination of the real costs of subsidized oil.
At present, the price of crude oil in China is set by the global market while the refined price is under strict government control.
Except for raising pump prices for petrol, diesel and jet fuel by 10 percent last November, Chinese policymakers have managed to keep them flat since 2007. At the same time, the global crude oil price has skyrocketed from $70 a barrel last July to above $100 a barrel today.
By subsidizing refiners to close the gap between the comparatively lower domestic retail price and the record-setting global price, the authorities seem to believe that the national economy can thus be immune from inflationary pressure caused by higher oil prices.
As a stopgap measure, such a price control does work. By requiring refiners across the country to follow the State-regulated prices, the authorities have so far prevented the rise in global oil prices from evolving into a driving force behind soaring domestic inflation.
China has made it a top priority to keep consumer inflation around 4.8 percent this year. But in the first two months, price gains have already jumped from 7.1 percent to 8.7 percent.
The severity of inflationary pressures and expectations has clearly made it difficult to raise domestic retail prices though crude oil prices are reaching even dizzier heights.
When crude oil prices exceed retail prices, refineries cut production to minimize their loss, resulting in a shortage of supply in certain areas.
That explains why more and more cars are queuing up again at pumps in some southern provinces in China. Though the price at the pump remains low, consumers are caught between frustration over unstable supply and fears over a looming price hike.
The inconvenience for consumers and the disruption to other businesses that unstable oil supply causes may not be easy to calculate. But policymakers should not exclude them from the cost of the current energy pricing mechanism.
More important, policymakers should pay more attention to the impact of government-fixed retail oil prices on the national energy-saving campaign.
As the most populous developing country that is rising as a global manufacturing power, China faces a huge challenge to meet its growing energy appetite.
China's output of crude oil was 186.7 million tons last year, up 1.6 percent from 2006. Meanwhile, its imports of crude oil rose 12.4 percent to 160 million tons.
If the country is to sustain its economic growth, domestic enterprises and consumers as well must learn to make the most of limited energy resources.
In this regard, the Chinese government has not only set a binding goal to cut energy intensity by 20 percent between 2006 and 2010 but also come up with a slew of policies to deliver the energy-saving goal.
Unfortunately, subsidized oil still stands out as one of the disincentives that hinder the country's embrace of higher energy efficiency.
In the past two years, China only managed to reduce its energy per unit of output by 1.23 percent and 3.27 percent respectively, all below the annual target of a 4-percent decrease.
Subsidized oil not only allowed enterprises to drag their feet on improving energy efficiency but also encouraged irresponsible consumer behavior like the purchase of bigger cars. For instance, car sales in China increased by 22 percent year-on-year last year, but the sale of small and fuel-efficient cars dropped by 30 percent.
When determining the cost of the current regulation over domestic oil prices, policymakers should not turn their eyes away from the low efficiency subsidized oil caused in production and consumption.
The timing may not be proper to immediately scrap the oil subsidy given the country's accelerated inflation. But policymakers should come up with such a timetable as soon as possible to convince domestic enterprises and consumers to prepare themselves for higher oil prices.
(China Daily 03/21/2008 page8)