The way to a man's heart is through his stomach.
This formulation is believed to apply to love affairs, but it also holds true in the world of sport.
The training program the Beijing Olympic Committee designed for its chefs at home and abroad will contribute much to the grand event. The first of the about 1,000 Chinese cooks that have been sent to Britain are expected to have grasped the vagaries of preparing Western cuisine.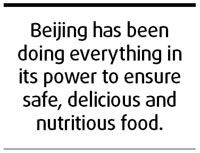 As the Tokyo Olympic Games boosted the popularity of Japanese sushi and the Seoul Olympics brought Korean kimchi to the world, so should we take the opportunity presented by the Games to make Chinese food more popular.
The training program in Britain was an Olympic challenge in and of itself, requiring the chefs to learn an entire style of cooking in just five days.
Five days might have been too little time to learn everything, but the trip reflects the government's sincere desire to win the hearts of the sporting men and women as well as the many tourists who will descend on Beijing in August.
The food section of the Beijing Olympic Committee has been doing everything in its power to ensure safe, delicious and nutritious food.
The doubt critics have cast on the safety of food in China has inspired stronger efforts on the part of the food industry. But that has not stopped some people, who harbor ill intentions toward China and are trying to turn the Olympic Games into a political campaign, from highlighting those doubts.
Knowing that safety is a sensitive issue, the organizers of the Games have developed a new way of monitoring that allows them to trace products from the field to the table. It is supported by state-of-art technology such as the global positioning satellite system.
Also, the Olympic Food Safety Command that the government unveiled recently will be an important tool for dealing with food emergencies.
In this sense, the training for our chefs and the stricter quality controls on our food are not a makeshift approach to ensuring food safety at the upcoming Olympics. The event is expected to be a turning point for the country in its fight to guarantee safe eating for all.
(China Daily 02/29/2008 page8)