Spring Festival is two days away. The greetings from relatives and friends wishing us a good time during the festival have started to pour in. But amid all the good tidings, some warnings about how best to conduct ourselves could prove to be more valuable when it comes to having a happy and enjoyable time.
"Don't drink too much". This is particularly important as the week-long Spring Festival is dominated by feasts with families and friends. The traditional idea that a feast is not complete without liquor or wine speaks volumes about how important drinking is for such occasions.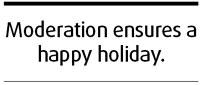 It is all right to drink a bit of wine or liquor to add to the festivity of family reunions and friendly gatherings, but if we are unrestrained in persuading our relatives and friends to drink beyond their ability, we risk turning a happy occasion into a tragedy.
In addition, many people have cars of their own these days, and those who drive should always remind themselves never to drink unless they are planning to either stay put or turn their keys over to a designated driver.
We Chinese have a saying that extreme joy begets sorrow. It is necessary to take precautions on such happy occasions, so that we can avoid the kind of unhappy turns that spring from overindulgence.
Moderation should also be employed in eating. When we look at the many delicacies spread across the dining table, we must tell ourselves to avoid stuffing ourselves.
In the old days, when meat, fish and many other kinds of food were rationed, most people subsisted on fairly Spartan diets. Spring Festival was seen as an occasion to enjoy the kind of good food that was considered rare during other times of the year.
Since living standards have improved over the past decades, we should stop seeing the festival as an occasion to push ourselves when it comes to drinking and eating. It should be clear that overindulgence is bad for the health.
Many cities have lifted their bans on fireworks to allow residents to really celebrate the occasion. But this does not mean we should be setting them off whenever and wherever we feel like it. Fireworks may cause injuries and fire. Air pollution is another negative effect that must be considered.
In closing, moderation is the best approach to take when enjoying a happy holiday.
(China Daily 02/05/2008 page8)