Being somebody in China's complicated administrative hierarchy entails lots of personal qualities. One of which is extraordinary patience plus physical fitness to sit through long-winded meetings featuring protracted tirades.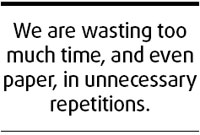 Even if you have heard the same old subject a thousand times, you have to be there, to show that you are serious about what you are hearing for the 1,001 time, or at least you pay due respect to the person who reiterates it.
That is why we always in someway admire those who spend their days, and nights in many cases, attending meetings after meetings.
Besides the "avalanche of meetings", there is the "mountain of documents" to navigate. A qualified public servant has to dedicate a considerable portion of his or her time studying or writing various kinds of official documents, some of which are tediously lengthy, and dull.
Many complain we are wasting too much time, and even paper, in unnecessary repetitions. But sadly, the complaints are only in private. Nobody seems to be ready to openly say no. After all, no one wants to be singled out and be blamed for an attitude problem. So except for those truly into bureaucratic red tape, or simply making a living out of it, others pretend they are serious about this senseless waste of time.
On occasions, we hear calls for change. But hardly see any.
From the State Council's latest initiative to streamline meetings and documents, we can see the national leadership is as knowledgeable about the problem as every one of us is. We truly appreciate the not-that-new topic being revisited.
Although they do not result in visible garbage and pollution, the time wasted in pointless meetings and documents are no less detrimental.
In addition to preventing public servants from doing what they are supposed to do, they add fuel to hypocrisy in public office.
The State Council, in a decision on the last day of 2007, set limits to the length of official meetings, speeches and documents. This will make a difference if carried out to the letter.
But a more fundamental remedy lies in rebuilding the culture of Chinese officialdom.
(China Daily 01/14/2008 page4)