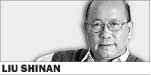 China has the most dedicated football fans in the world, though one of the most disappointing teams.
I don't know how many fans in football powers such as Italy, Brazil and Germany sat up at midnight to watch games in 2002 because of the time difference when the global gala was staged in the Republic of Korea and Japan.
But I dare say that the Chinese disciples of the "world's number one sport" who burned the midnight oil to watch matches taking place halfway across the world far outnumbered their Western peers.
During the past month, no less than 100 million Chinese men (and a growing number of women) watched the live TV broadcasts of the 18th World Cup finals in the wee hours every day, either in boisterous bars or at home with the volume turned down low. And the number of sports journalists sent by Chinese media to Germany to cover the event surprised their colleagues from the 32 countries whose national teams were actually competing in the tournament. Nearly 500 Chinese reporters descended on Germany even though the tournament's organizers assigned only 69 passes to Chinese media.
"How come you Chinese are here to compete with us," asked a German journalist to a Chinese TV cameraman. I would rather believe that the German was eulogizing his Chinese colleague's professional dedication rather than assume that he was jeering at my compatriot for "poking his nose into other people's business."
Though I acknowledge the globalized belief that "football has no national boundaries," I still find ironic the fact that so many Chinese men demonstrated a near hysterical zeal for the World Cup while so few watch league games in China.
Chinese people's fascination with the World Cup started in 1982 when the Chinese national team scored a number of exciting victories in the qualifying stage to almost qualify, but missed out due to the dubious result of a New Zealand-Saudi Arabia game. Since then, China has failed to reach the finals of every subsequent World Cup, except in 2002, which was largely thanks to an easier passage created by the host nations' automatic qualification. The Chinese team, however, lost all three matches in the group stage without scoring a single goal.
To improve its standard of football, China began market-oriented reforms of the sport's structure in the early 1990s but the Chinese footballers' performance in the world arena has become worse and worse.
China is now the world's fourth largest economy and it is also a major sports power, as seen in its second place in the medals table at the Athens Olympic Games in 2004. It is bewildering why its football has regressed rather than progressed in the past two decades. Fans ask desperately: "Why is it so difficult for 1.3 billion Chinese to produce 11 outstanding football players?"
Nobody can give an authoritative answer to the question. And those in authoritative positions have not tried, and are maybe unwilling to answer. Without in-depth studies, I dare not try to make a serious comment, either. But I think two things are clear. First, the market-oriented reform of the professional football structure has been a failure. It is undeniable that the industry is now riddled with corruption, bribery and "bent" refereeing. Football players are more interested in cash than the match.
Second, football chiefs have never been serious in implementing the strategy of training and fostering talented players from their childhood. Football clubs put all their efforts on earning profits. Officials of the supervising authorities engage themselves in short-term endeavours, striving for instant success during their tenure in office. Nobody really cares about the training of young players.
Developing a top-class footballer requires efforts from an early stage. Speaking frankly, there seems little potential with the current generation of Chinese professional football players.
Start doing a solid job to train promising youngsters and work persistently with them for another 10 or so years, then China will see a batch of football talents emerge that can perform on the highest stage the World Cup. So, be patient.
Email: liushinan@chinadaily.com.cn
(China Daily 07/12/2006 page4)