Before I embarked on my latest assignment to Shanghai, friends warned me that winter in that southern city can feel colder than in Beijing. I thought they were merely echoing a tired old cliche.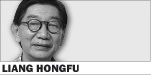 There might have been some truth in it before the city was transformed from a grey industrial sprawl into a sparkling metropolis of glass-and-steel skyscrapers, broad boulevards and mega malls. Having built such world-class infrastructure, the city planners must have thought about piping heat into people's homes. Right?
Wrong. My Beijing friends' warning rang like a bell the night of December 5 when I sat fully dressed with my great coat on in my freezing apartment listening to the weather girl on TV cheerfully reminding her audience of the arrival of the mass of cold air from somewhere in the far away north. The wind was howling outside the windows and the only heating in the room came from a limp reverse-cycle air-conditioner. The thermostat on the wall registered a room temperature of about 14 degrees Celsius.
Many Shanghai people have explained to me that the city had to improvise a long time ago when fuel of all kinds was in acute shortage. They also said that people here seemed to have gotten used to shivering through the cold and damp winter weather without central heating in their homes.
But it really shouldn't be this way. Economic prosperity has enriched the city government and significantly raised the living standard of a large segment of the population. Many Shanghai people have moved to their new homes which are far superior in every way to their former abodes in sprawling tenement blocks in the old neighbourhoods.
Indeed, the exodus of many well-to-do Shanghai people to the newly developed housing estates in the suburbs with all sorts of up-scale amenities is a reflection of the common aspiration for a better quality of life. Such aspirations are expected to intensify in tandem with brisk economic growth.
The municipal government has obviously done much to improve the quality of life in such areas as public amenities, transportation, culture and environmental protection. Efforts have gone into preserving historic buildings, keeping the streets clean and ensuring that the city is relatively safe from crimes.
But frequent traffic jams on almost every main road and elevated highway have remained a constant irritant to commuters who must travel by car or bus to work every day. Those people who live in districts served by the two subway lines must put up with overcrowding in the cars and utter chaos on most platforms. The fight to get on a crowded train is definitely not for the faint of heart.
Such shortcomings have prompted economists to suggest making some adjustments in public spending by shifting a larger portion of resources to projects that will make a direct improvement to the daily life of the people, like home heating.
Improvements in some other areas can be accomplished through tighter control and better management, the economists say.
Transportation experts agree that building more roads does not necessarily ease traffic congestion, which seems to be getting worse by the day. Perhaps city officials here would take some time to study the traffic management approach in Hong Kong, which presents a considerably more challenging situation because of the severely limited availability of land for building elevated highways and bypasses.
The highway system in Hong Kong is distinguished by its many limitations for motorists as well as pedestrians. For example, lane changing on highways is restricted long before the approach to exits to avoid blockages of the other lanes by cars cutting across lanes to jump the queue at exits, an all-too-common practice of Shanghai motorists.
In addition, many roads in Hong Kong are one-way only to help ensure a speedy throughput of cars. Drivers may have to take a long detour to get to where they want to go. But at least the traffic is moving most of the time.
Traffic logjams are rare in Hong Kong, largely because the fine for blocking traffic at intersections is stiff. So are those for illegal parking or stopping to alight or pick up passengers at restricted areas. There are special bus lanes on many roads and pedestrians have the right of way at zebra crossings. Honking is not only considered rude but also an offence under the traffic law.
Hong Kong owes its growth as an international services centre to its pool of talent as much as to its excellent infrastructure facilities. And improving quality of life is an effective way of attracting and retaining talent.