Today is the final day of the Olympic torch relay in Beijing.
Feng Gong, a popular crosstalk performer, will be the lead runner starting from the Zhoukoudian Museum at the Peking Man World Cultural Heritage Site.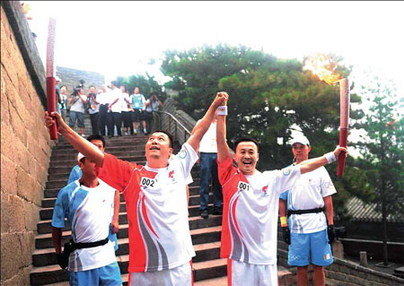 Torchbearers Li Zhonghua (left) and Dang Qiang raise their arms in celebration during the Olympic torch relay at the Great Wall August 7 2008. [Xinhua]
The entire relay will take about one and half hours, covering more than 7.9 km. A total of 140 runners will take part.
After a ceremony at 7 am, at the museum, the torch will be relayed through five districts, passing landmarks such as the Beijing Auto Market in the Development Area.
The relay will end temporarily at No 101 Middle School, the site of the Olympic Youth Camp, around 12:29 pm.
Later in the day, Xu Zhihong, president of Peking University, will carry the torch to the Bird's Nest stadium to bring it to its final conclusion.
Thursday's relay started from the Great Wall and covered 14.5 km through six districts, passing landmarks such as the Miyun Reservoir and the movie lot of the China Film Group Co.
The torch was then carried on an ancient royal boat through the Tongzhou Canal at 5 pm, the relay's only water section.
Tongzhou was a transport hub and business flourished from the Yuan Dynasty (1271-1368) to the end of Qing Dynasty (1644-1912).
"The prosperity and fame the boats anchored here brought is legendary," Tongzhou resident Wang Jia, said.
"I didn't want to miss it as it was the best opportunity for me to witness this great even taking place close to my home."
"I also expect to watch the fireworks display tomorrow evening," Wang said.
The relay ended at the Temple of Earth (Ditan) at about 6:12 pm. Song Zuying, a popular ballad singer, lit the cauldron.
"I had been looking forward to this moment and will remember it for the rest of my life," Song said.
Built in 1530 during the Ming Dynasty (1368-1644), Ditan was where the emperors made sacrifices to the gods for good harvests, auspicious weather and stability.
Ditan complements the Temple of Heaven (Tiantan), the final stop on the first day of the Beijing relay.
The planning of the routes embodied Chinese philosophy.
Xinhua contributed to this story