My leg of the torch relay Wednesday was all too short, somewhere around 37 m.
But I felt proud, because I was not alone.
Four of my colleagues had also previously participated in the relay. China Daily's sports editor, who took part in the Wanzhou, Chongqing municipality, relay told me that he could not help but shed tears when he saw people, young and old, cheering him and other torchbearers.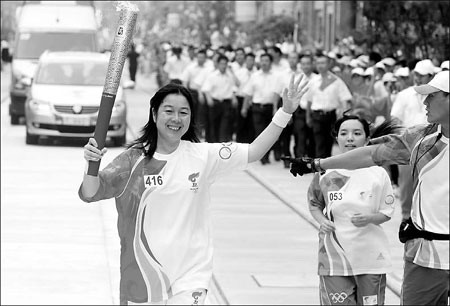 Li Xing, assistant editor-in-chief of China Daily, runs with the Olympic torch along Qianmen Street in Beijing Wednesday. [China Daily]
"Some of the elderly probably had never ventured out of their mountainous villages to the big cities, but through the Olympics, they were learning more about the world," he said.
As I was nominated by the paper, I carried the good wishes of hundreds of my colleagues for the Beijing Olympics. Some of my colleagues are from India, the Philippines, Singapore, Australia, Britain and the United States, but we have all joined hands to cover this great sports event in Beijing.
Besides expanding the China Daily newspaper, we have also put out the Olympian, a daily tabloid and an official publication for the Games.
I felt I also relayed the good wishes of tens of thousands of spectators who thronged Arrow Gate leading to Qianmen Street and the Zhushikou intersection.
They cheered, waving national and Olympics flags as well as trying to get a glimpse of the runners and above all, the torch, which resembles the shape of a rolling paper scroll.
When our bus stopped at traffic lights at several downtown intersections, pedestrians stopped and waved at us, and some took out their cell phones to take photographs of the torch.
As I stood waiting for my turn on Qianmen Street, the spectators - local residents, students and workers from nearby businesses - cheered us and kept clicking their cameras. Two girls touched the torch and thanked me again and again for letting them do so.
I am sorry that I did not have time to take a photograph with a young woman, who called me "Torch sister".
Qianmen Street, lined with newly completed buildings, represents a renaissance of its booming past.
Chongwen district Party chief Li Xiaoguang, who was also the first torchbearer of the Qianmen leg of the relay, described to us how local architects rebuilt the street and restored the past edifices, following frame by frame old photographs of Qianmen.
Yes, the Olympic Games has given the world's leading architects a lot of leeway to create their signature works, almost all contemporary and hi-tech.
But Li highlighted the importance of preserving the charms of the past, such as the section of the old city wall, or the Temple of Heaven, both of which are under his jurisdiction.
The Beijing Olympics is the right catalyst to push China into modernity while also encouraging it to preserve its splendid past.