Winfried Vahland was a proud man Wednesday: not only did he get to run a leg of the Olympic torch relay in Beijing, but he was also lucky enough to pass the flame on to his wife Ingrid, an act the pair sealed with a kiss.
"I am very happy, glad and proud," the president and CEO of Volkswagen Group China (VGC) told China Daily in an exclusive interview ahead of the event.
VGC is the official vehicle supplier for the relay on the mainland.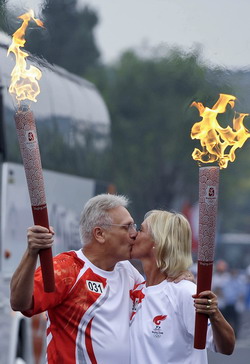 Winfried Vahland kisses his wife Ingrid after passing the torch to her during the relay in Beijing August 6, 2008. [Xinhua]
Vahland, 51, said his earliest Olympic memory is watching a live TV broadcast of Ulrike Meyfarth making her debut at age 16 in the high jump at the Munich Games of 1972, a moment he shared with 30 of his friends from Germany.
We had a great party afterwards, he said.
"So I hope to experience the same thing here after the opening ceremony."
Vahland took over at VGC in 2005, at a time when the company was recording huge losses and was in desperate need of change, he said.
The new CEO knew he needed an idea that would inspire his workforce; and the Olympics came to mind.
"You always need a good name, something that people can remember the Olympics is something positive, it's about striving to win," Vahland said.
His idea evolved into the "Olympic Restructuring Program", which over the past three years has helped VGC to significantly reduce its costs and boost efficiency.
In the first half of this year, the company sold more than 500,000 cars and confidence is high the 1 million mark will be reached by the end of the year, he said.
As a result of the program's success, Vahland was last year named one of China's top 10 managers.
Looking forward to tomorrow's opening ceremony at the National Stadium, Vahland said the Olympics is very much part of his life.
"You learn from it. You learn about people, your organization, yourself," he said.
In line with Beijing's vision to hold a green Olympics, Vahland said VGC is committed to introducing green vehicles to China.
"All our plants in China are now certified and operate to the same standards we use in Germany and that's something I feel proud of," he said.
Ingrid Vahland, a former teacher who quit her job to care for the couple's children, said she has been keen to promote the concept of green living to China's young people.
"To do well on the environment, you have to understand it and how it works," she said.
"You have to avoid causing pollution, not just clean up afterwards, which costs money, time and effort," she said.
VGC is honored to be a sponsor of the Beijing Olympics, Winfried Vahland said.
A fleet of 959 vehicles has accompanied the torch relay through 113 cities and 31 provinces across China, he said.
"The Olympics has helped motivate us," he said.