Yang Liwei, China's first astronaut, will run the opening leg of the Olympic torch relay in Beijing, which starts at 8 am today at the Meridian Gate of the Forbidden City.
Basketball star Yao Ming, who some media said would run the first leg, will be the ninth torchbearer.
"Yang helped China realize its dream to travel in space, and now we are living another dream of hosting the Games," Sun Xuecai, deputy director of the Beijing sports administration, told a news conference Tuesday.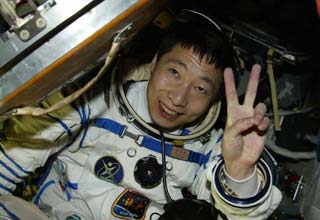 Yang Liwei
China became the third country - after the former Soviet Union and the United States - to put a man in space, when in 2003, Yang orbited the Earth in a module of the Shenzhou V spacecraft.
Today's relay will involve 433 torchbearers, including 29 foreigners and one representative of each of Hong Kong, Macao and Taiwan.
Australian Colin Giles, president of Nokia China, told China Daily Tuesday: "I was born into a sporting family, and participating in the torch relay will be one of the most memorable and important moments of my life."
The Olympic torch relay is a bridge that connects different countries and cultures, and that, in true Olympic tradition, can help us foster a spirit of peace and friendship, he said.
"My wife is from Taiwan and my two daughters were born in Taipei and Beijing, so our family contains both Western and Asian cultural influences," Giles said.
Another of today's runners will be CCTV anchorman Bai Yansong.
"The power of an individual torchbearer is limited, but we are just like matches, and we can light people's passion for the Games," he said.
Li Furong, vice-chairman of the Chinese Olympic Committee, will run the final leg and perform the ritual lighting of the cauldron at the Hall of Prayer for Good Harvest in the Temple of Heaven.