LESHAN, Sichuan: The Olympic torch arrived here Monday at the home of the world's tallest statue of Buddha.
The relay was held at Emei Mountain, where the main attraction is the 71-m high Leshan Giant Buddha carved into the cliff face.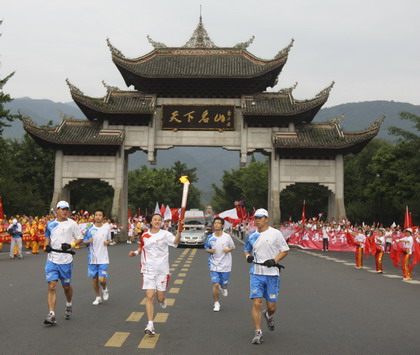 Torch bearer Luo Huaqin runs with the Olympic torch in Leshan, Southwest China's Sichuan Province August 4 2008. [Xinhua]
Both the mountain and the statue are classified as world heritage sites.
Two-time Olympic champion diver Gao Min led off the relay, while Tan Guoqiang, a 44-year-old primary school teacher from Wenchuan county - the epicenter of the May 12 quake - ran the final leg.
"Post-quake Sichuan is still as beautiful as it used to be," Tan said.
In the aftermath of the quake, Tan spent 70 hours searching for survivors, despite losing his wife to the disaster.
He was one of 29 quake heroes who will carry the torch in Sichuan.
"I want to express the gratitude we Sichuan people owe to everyone who has shown concern and supported us over the past several months," he said.
"Without them, Sichuan couldn't have started its rebuilding so soon."
Tens of thousands of local people thronged to the relay area, waving national and Olympic flags as they went.
Among the crowd were groups of nuns and monks from temples dotted around the mountain.
One of them was 32-year-old nun Huanxiang from the Fuhu Temple.
"There are usually lots of tourists here at this time of year, but due to the earthquake there haven't been as many this year.
"But things are getting better," she said.
Leshan, which is about 200 km from Wenchuan, managed to escape the quake with only minor damage.
Later yesterday, the Olympic torch traveled to Mianyang and Guanghan for a "display tour" in each city.
In Mianyang, this took place inside the Jiuzhou Stadium, which served as a temporary home for more than 20,000 quake survivors evacuated from nearby Beichuan and Mianzhu.
Eighty-eight people carried the torch, cheered on by a crowd of thousands, many of them earthquake relief workers.
The torch will continue and end its Sichuan journey today in the provincial capital Chengdu.
Tomorrow it will arrive in Beijing, for its final tour, just two days before the start of the Games.