CHENGDU-- Amid cheers and a sea of flags, the Olympic torch started its "journey of solace and hope" in Sichuan on Sunday, nearly three months after a 8.0-magnitude earthquake devastated the southwestern province of China.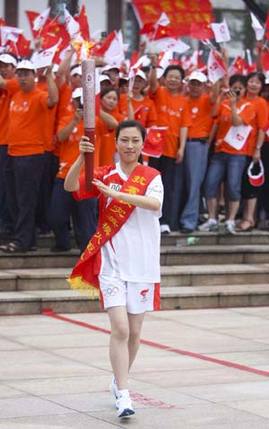 First torchbearer Jiang Min, a national model for her devotion to the quake-relief work, runs with the torch during the Beijing 2008 Olympic Games torch relay in Guang'an City, southwest China's Sichuan Province, August 3, 2008. [Xinhua]
Before the relay in Guang'an City, the first stop of the Sichuan leg, a minute's silence was held to honor the victims of the earthquake, which killed almost 70,000 people and left another 18,000 missing.
After the silence, deafening roars of "Rebuild Sichuan! Go China!" could be heard along the 7.3-km route.
"The arrival of the Olympic sacred flame has brought solace and hope to the Sichuan people," said Wei Hong, vice governor of Sichuan, at a ceremony marking the beginning of the relay.
"It will also inspire our confidence and courage in rebuilding, " he said.
Sichuan is the last stop for the Olympic flame before it heads to Beijing for Games opening ceremony on Friday. It had originally been scheduled for June, but was postponed.
A total of 862 torchbearers, including 29 earthquake rescuers who were newly nominated, will take part in the relay.
"I believe my smile and confidence will drive home the message that we will build Sichuan as beautiful as it was," said first torchbearer Jiang Min, a policewoman in Pengzhou city near the epicenter of Wenchuan.
Jiang, who lost 10 relatives, including her two-year-old daughter and her parents in the catastrophe, had moved the nation by her work on the front line of the relief effort.
"I will bring the Olympic spirit to my work and we can rebuild the homeland through our joint efforts," she said after finishing her stretch.
Exuberant clusters of people were standing along both sides of the road, where  shouts of "Go China! Go Olympics!" echoed.
Many had stickers of the Chinese national flag on their faces and wore red headbands.