ANYANG, Henan: The Olympic torch Monday toured this city, which is known for being the home of oracle bone inscriptions, one of the world's oldest writing systems.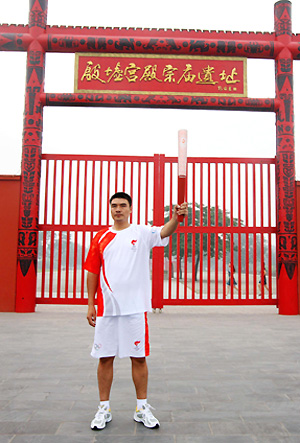 Song Zhongbo, chief trainer for the men's canoeing team, holds the Olympic torch in front of Yinxu, the ruins of the last capital of the Shang Dynasty (16th-11th century BC), in Anyang, Henan province. The Anyang leg of the Olympic torch relay kicked off on July 28, 2008. [Xinhua] 
Li Ruiying, an anchorwoman with China Central Television, ran the first leg.
"I hope the torch relay in my hometown will help introduce its ancient, brilliant culture to the rest of the world," she said.
Anyang, the northernmost city in Henan province, is home to the archaeological site of Yinxu.
Also known as the Ruins of the Yin, Yinxu is the ruins of the last capital of the Shang Dynasty (16th-11th century BC).
Since it was rediscovered in 1899, Yinxu has yielded many discoveries that shed light on the country's Bronze Age, such as the oracle bones and tortoise shells bearing the earliest form of Chinese script. The site was added to the World Heritage list in 2006.
Anyang is also famous for being the birthplace of the famous Song Dynasty (960-1279) General Yue Fei and his military arts tutor Zhou Tong.
At the opening ceremony for the relay, residents of Yue's home village performed an 800-year-old parade ritual that has been practiced since the general was killed at the order of his emperor in 1142.
Boys dressed like Yue and the martial artists of his army stood on bamboo carts, which their parents carried on their shoulders.
The city of Anyang was first built in the Ming Dynasty (1368-1644).
Yesterday's 5.8-km relay involved 208 torchbearers who included a kung fu master, a tai chi coach and a member of a family that is famous locally for making a specialty roast chicken dish.
Also running was Ren Yangcheng, 78, who became a national hero in the 1960s, when he led a team 100,000 people from his home county of Linxian, in a scheme to dig a canal to divert river water into their fields.
The Red Banner Canal took 10 years to build and was seen as a feat of engineering and determination.
"I am proud of being part of two great events in my life - the Red Banner Canal and the Olympic Games," he said.
Today the canal is a popular tourist destination and a cultural heritage site under the direct supervision of the state.
Anyang was the last stop on a four-day, four-city relay in Henan.
Today, it will continue in Shijiazhuang, capital of Hebei province.