OLYMPICS
/
Relay Cities
---
Dream comes true at Zhengzhou relay
By Wang Shanshan
China Daily Staff Writer
Updated: 2008-07-26 08:45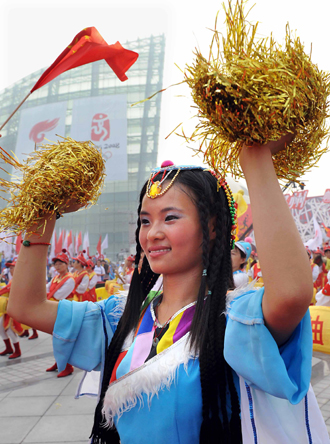 A performer cheers torchbearers during the Zhengzhou leg of the Beijing Olympic torch relay in Zhengzhou, capital city of China's most populous Henan Province, July 25, 2008. [Xinhua]
ZHENGZHOU: Liu Zhanxi works as a security guard at a residential compound. He is so devoted and honest that almost all the residents of his community have entrusted him with their car keys for the sake of convenience.
Since retiring from the army in 1979, he has been a guard at different places in the capital of Henan province.
But from Friday, this quiet 55-year-old has a new title - Olympic torchbearer, after running 36.5 m with the flame.
After completing his run, Liu said: "I have been dreaming about being part of the Olympics for a long time, but it is too expensive for me to go and watch the Games in Beijing. Now I am an Olympic torchbearer, and it is such a great day today."
The relay in Zhengzhou lasted two hours and involved 208 torchbearers. Zhang Rongfang, a member of China's legendary volleyball team that struck gold at the 1984 Los Angeles Olympics, was the first to carry the torch.
Zhang, who now heads the volleyball section of the General Administration of Sport, said: "I used to take part in the Olympics as an athlete. Now that my home country is hosting the Games and I have become one of the torchbearers, I cannot describe how excited I am at this moment."
The relay began outside Henan Arts Center in the heart of the city and went on for 7.6 km until reaching the Zhengzhou International Conference Center.
Jiangxing, a member of the Chinese Academy of Engineering, ran the final leg and lit the cauldron there.