JINAN: Sports celebrities were to the fore as the torch relay in Jinan passed through the capital city of Shandong province.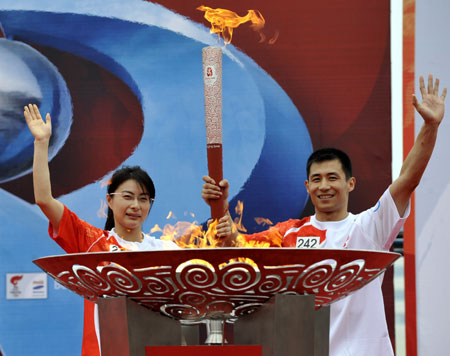 Olympic diving champions Guo Jingjing(left) and Wang Feng light a cauldron in Jinan July 23, 2008. [Xinhua] 
Gong Xiaobin, former national basketballer and now coach of the Shandong Gold Basketball Club, led off the relay from the Shandong provincial stadium.
It concluded with the lighting of a cauldron at the Qilu Software Park by Olympic diving champions Guo Jingjing and Wang Feng.
Guo, tipped to secure another gold medal at next month's Games, is currently training with her team members in Shandong.
Guo said: "I wish for a successful Olympic Games in Beijing and the best for all athletes."
The torchbearers also included other Olympic champions such as long-distance runner Xing Huina and weightlifter Lin Weiling, both gold medalists at the 2000 Sydney Games and Wu Minxia, the 3 m springboard diving champion at the 2004 Athens Games.
Footballers Li Xiaopeng and Li Jinyu also participated in the relay to the cheers of local fans.
Tens of thousands of people lined both sides of the street of the 13.5-km relay displaying banners, beating drums and dancing.
The torch passed through Olympic Park, currently in its final stage of construction. It will be the venue for the 11th National Games next year.
Jinan, also known as Quancheng or City of Springs, has about 72 natural springs. Among them, the Baotu, or Spurting Spring, is the best known.
The spring derived its name from the thunderous sound it makes as water spurts from three underground outlets at 1,600 liters per second.
The relay will take a break today. It will move to Henan province tomorrow starting from its capital Zhengzhou.