TAI'AN, Shandong: The Olympic torch relay started Tuesday from the world's biggest Confucius temple and ended at the foot of Mount Tai. It passed through Qufu, hometown of Confucius, and Tai'an, Shandong province.
Participants and visitors bowed three times before the statue of Confucius before the torch was carried by Kong Peng, a direct descendant of the sage, to the entrance of the Hall of Great Accomplishment.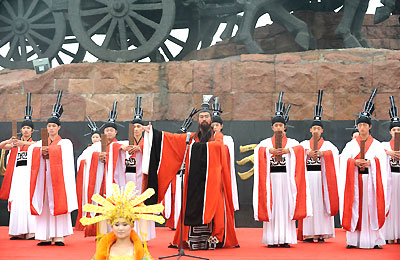 Performers in traditional dress honor Confucius with a ritual at the Olympic torch relay opening ceremony in Qufu, the sage's hometown, in Shandong province July 22, 2008. [Xinhua]
The hall is a major structure of the temple.
"The Olympic torch's visit to Qufu symbolizes the encounter of Western civilization and Confucianism," Kong said. He works as a local tour guide.
Confucius was born in Nishan, 30 km southeast of Qufu, and spent many years in the city giving lectures, accompanied by his disciples and followers.
In 478 BC, a year after Confucius' death, many believers flocked to Qufu to listen to his disciples to explain his doctrine. The authorities of the Kingdom of Lu ordered the philosopher's home to be turned into a temple.
The temple is situated on 22 hectares and consists of 500 rooms. It is one of the largest ancient architectural complexes in China, second only to the Forbidden City.
The temple was listed as a UNESCO World Heritage Site in 1994 along with the Cemetery of Confucius and the Kong Family Mansion in Qufu.
The relay in Qufu also passed thorough other historic sites like the wall of the Kingdom of Lu and the tomb of Shao Hao, one of five legendary emperors.
The relay then proceeded to Tai'an and ended at the foot of Mount Tai, also a World Cultural and Natural Heritage site.
As one of "five sacred mountains", Mount Tai was a must-visit for newly crowned emperors in ancient times. It is said that 72 emperors had made pilgrimages to the mountain.
The Olympic torch relay will continue today in the city of Jinan on the last leg in Shandong province.