LINYI, Shandong: The Olympic torch passed through the seaside city of Qingdao yesterday, the host for the sailing events.
The relay started at the Qingdao Olympic Sailing Center, located at Fushan Bay, which was completed in January and has a 534-m breakwater or "spectator's dam" to allow the public a closer view of the races.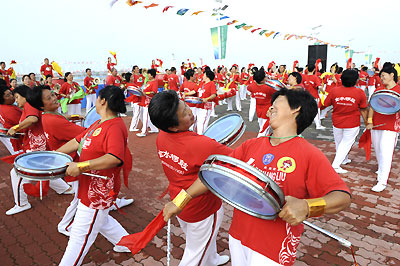 Drummers perform at the Olympic torch relay opening ceremony in Qingdao, Shandong Province, July 21, 2008. [Xinhua] 
Zhang Xiaodong, China's well-known yachtsman, led off the relay from Measuring Square in the sailing center. It reached a climax when the torch was handed to Guo Chuan, who boarded a boat named after Qingdao.
Guo has sailed the Qingdao throughout China and overseas since 2004 to raise media awareness of the Olympic sailing competition. Guo raised his hands to acknowledge shouts of "Go China Go, Beijing Go, Qingdao Go" from the crowd.
"It's a great honor to be a torchbearer," Guo said. "We, people of Qingdao are very fond of sailing and proud to host the sailing events for the Olympics."
The 14.5-km relay then followed a route along the coast, passing the government office and the Qingdao University before arriving at the city's No 1 Beach.
Xia Geng, mayor of the city and chairman of the Olympic Sailing Committee, lit a cauldron about 200 m off shore in celebration of the event.
The relay then proceeded to Linyi, a city known as a revolutionary base during China's liberation war between 1945 and 1949.
The relay will today pass through Qufu, hometown of Confucius, and Tai'an. It is also where the Taishan Mountain is located.