QINGDAO -- The Olympic torch relay begins its tour in Olympic co-host city Qingdao of East China's Shandong Province at 8:10 am local time on Monday.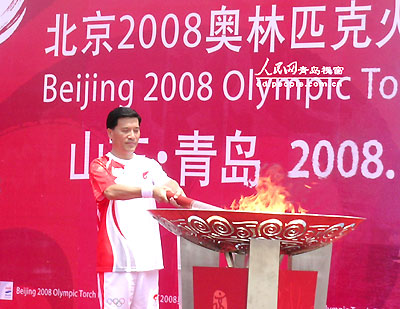 As the last torchbearer, the mayor of Qingdao Xia Geng, lights the cauldron July 21, 2008. The Qingdao leg of Olympic torch relay in Shandong Province was held on Monday. [people.com.cn] 
Zhang Xiaodong, windsurfing world champion and silver medalist for women's Mistral at 1992 Barcelona Olympic Games, received the torch from Huang Sheng, vice governor of Shandong, as the first runner at the Qingdao Olympic sailing center.
The torch will tour from the Qingdao Olympic sailing center to Qingdao's first bathing beach. Starting from the fourth bearer, it will be transferred among four bearers in a sailing vessel for one thousand meters in the sea.
The torch relay, covering 14.5 kilometers and involving a total of 259 torchbearers, is the first leg of the sacred Olympic flame's tour in Shandong province.
It will leave Qingdao for Linyi, an old revolutionary base area, for the second leg in Shandong.
The Olympic torch finished its tour in Dalian of northeast China's Liaoning Province at 10:05 am local time on July 19 before it arrived in Shandong.