HO CHI MINH CITY: A huge number of spectators - including 100,000 motorcyclists - thronged the streets Tuesday evening to cheer and applaud the Olympic torch relay in the country's largest city, which marked the end of the flame's international journey.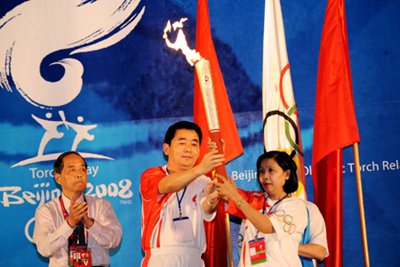 Nguyen Thi Thu Ha (R), vice mayor of Ho Chi Minh City, receives the torch from Chinese Ambassador to Vietnam Hu Qianwen, before running the opening leg of the torch relay in Ho Chi Minh City, Vietnam, April 29, 2008. [Xinhua] 
The torch will now travel to the Chinese special administrative regions of Hong Kong and Macao before going to the mainland.
Many Chinese nationals, mostly those working or studying in Vietnam, also lined the streets waving huge red flags, repeatedly chanting "Beijing! China!".
Flags, banners and signs welcoming the torch hung from lampposts along several avenues of the city.
Taekwondo player Hieu Ngan Tran, Vienam's first Olympic silver medalist in Sydney 2000, was among the 60 torchbearers who carried the flame across town from the Ho Chi Minh City Theater past other landmarks.
The relay drew the Olympic flame's 29-day odyssey outside Chinese territory to a perfect close, Beijing Olympic Torch Relay spokesman Qu Yingpu said.
Li Binghua, executive vice-president of the Beijing Olympic organizing committee, said: "In this beautiful city, Olympians and individuals from all walks of life held aloft the Olympic flame, calling for people of the world to overcome racial, cultural and religious differences, and together build a more harmonious, happier and better tomorrow."
The relay was held on the eve of Liberation Day of Saigon - the city's name under French rule - or Reunification Day for Vietnam. The liberation of Saigon on April 30, 1975 marked the end of the 16-year Vietnam War, and was a cornerstone for the establishment of the Socialist Republic of Vietnam on July 2, 1976.
Five Chinese torchbearers carried the flame, among them 34-year-old Arthur Kwang Hung Ting, board chairman of Taiwan-based Central Trading and Development Group.
The son of the late Lawrence Ting, former deputy chairman of the Chinese Taipei Olympic Committee who led the Chinese Taipei delegation to the 1976 Montreal Olympics, was thrilled to be a torchbearer.
"Chinese attach crucial importance to family lineage, and I think being selected a torchbearer reaffirms my lineage and is very significant for myself and my family," he told China Daily.
Chairman of the Hong Kong Business Association in Vietnam Michael Chiu, who has been in Vietnam since 1994, was also chosen to carry the flame.
"I am honored and excited (and) so proud to be Chinese and (that) our country can hold the Games," said Chiu, the sole distributor in Vietnam for Haier air-conditioners, a top Chinese brand and one of the Games' major sponsors.
The torch goes to Hong Kong today, which marks the 100-day countdown to the Olympics.