PYONGYANG -- The sacred flame of the 2008 Beijing Olympic Games on early Monday arrived at Pyongyang, capital of the Democratic People's Republic of Korea (DPRK), for the 18th leg of its global torch relay.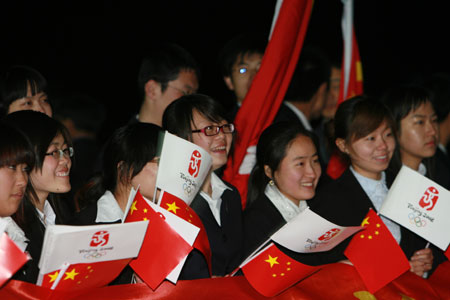 Chinese overseas students wave national flags, giving a warm welcome as the Olympic flame arrives in Pyongyang, capital of the Democratic People's Republic of Korea (DPRK) on early Monday. [Xinhua] 
The special chartered plane carrying the flame, which was ignited on March 24 in ancient Olympia of Greece, landed on the Sunan international airport at 00:28 a.m. local time from Seoul, capital of South Korea.
The flight, directly flying from Seoul crossing the Yellow Sea, was a special arrangement, for the two Koreas were still in antagonizing status on the 38th parallel after the 1950s Korean War.
Li Binghua, Executive Vice President of the Beijing Organizing Committee of Olympic Games (BOCOG), carried the lantern of the Flame and walked off the plane, receiving the welcome from Chinese ambassador to DPRK Liu Xiaoming.
Upon arrival at the airport, Li and the Flame received a warm welcome by Pak Hak Seon, Chairman of the National Olympic Committee of the DPRK, Pak Pyong Jong,, first vice-Chairman of the People's Committee of Pyongyang.
Almost 1,000 of full-dressed Koreans and Chinese overseas students in the DPRK were greeting the Flame in the airport, cheering and raising banners of "warmly welcome Beijing Olympic Flame arriving in Pyongyang" and "wish the torch relay in Pyongyang a full success".
The Pyongyang leg of the torch relay, starting from the Tower of the Juche Idea and concluding at the Kim Il Sung Stadium, will start on Monday morning. 80 torchbearers will take part in the 20 kilometers relay.
Pyongyang is the 18th stop of the Beijing Olympic torch relay around the world. The Olympic Flame will go to 21 cities on five continents before its journey continues in the Chinese mainland.