SEOUL -- The Olympic torch relay in the South Korean capital of Seoul, the 17th leg of its global journey, ended here Sunday evening.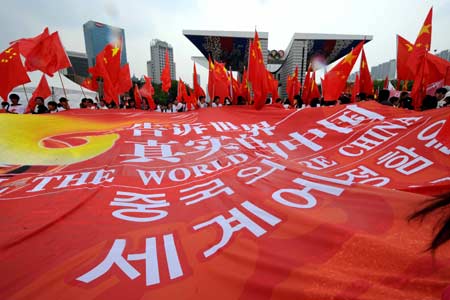 Overseas Chinese cheer for the Olympic torch relay in Seoul, South Korea,April 27, 2008. Seoul is the 17th stop of the 2008 Beijing Olympic Games torch relay. [Xinhua]
Seventy plus runners, including Lee Sei-Kee, chief of the China-South Korea Friendship Association, Heo Nam-Soo, mayor of Busan city, actresses Chang Nara, Kim Mi-Jung, movie director Kim Jong-Seok, and Olympic gold medalists Moon Dae-Sung, Ahn Hyun-Soo, Nam Eun-Young and Kim Soo-Nyung, participated in the 22-kilometer relay that covered Seoul's most famous landmarks and historical sites.
After a four-hour relay, last runner Yoon Tae-Woong lit the cauldron amid a cheering crowd of thousands waving Chinese and South Korean national flags at the City Hall Plaza.
The flame will head for Pyongyang, capital of the People's Democratic Republic of Korea later Sunday.