CANBERRA - A Chinese students' group said on Thursday it was surprised so many Chinese flocked to Canberra to "protect the torch" on the sole appearance of the Olympic flame in Australia.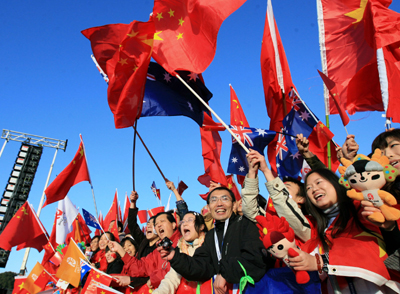 Oversea Chinese cheer for the Olympic torch relay in Canberra, Australia on Thursday, April 24, 2008. [Xinhua] 
The Chinese Students and Scholars Association (CSSA) ran a web-based campaign to encourage students from across the country to gather in the nation's capital for Thursday's Olympic torch relay.
As many as 20,000 Chinese arrived by bus, car and plane to cheer on the torch, many waving large red Chinese flags.
Canberra-based CSSA organizer Zhang Rongan said he was thrilled so many students answered the call.
"We were thinking initially at the most 5,000, but it turns out more than 20,000 came," Zhang told reporters.
He said students paid their own travel costs to Canberra and weren't funded in any way by the CSSA.
"They just rented the buses to get down the cost," he said.
"They paid their own way. Nobody could afford to pay for so many people. They were voluntary to come here. You can't organize so many people," he added.
So many Chinese arrived in Canberra that their organizers asked them not to use public toilets or local buses for fear of inconveniencing local people.
"We don't want to interrupt local public order," Raymond Wang, a Chinese student, said.
Wang said more than 60 buses traveled from Melbourne.
Participation was voluntary, and they had paid 50 Australian dollars (US$ 46) each for the bus trip, he said.
Wang said western countries were ill-informed about Tibet, and the media were "not telling the truth".
"Tibet is, was and always will be a part of China," he said.
Wang said he was proud of his country, and the Olympics were a good opportunity to show the world the "real China".
Chinese students were now looking forward to a "very successful" Olympics in August, CSSA's Zhang said.