CANBERRA -- The Canberra leg of the Beijing Olympic torch relay began at 8:45 a.m. local time (06:45 Beijing time) Thursday in the Reconciliation Place near Lake Burley Griffin in the center of the ciy.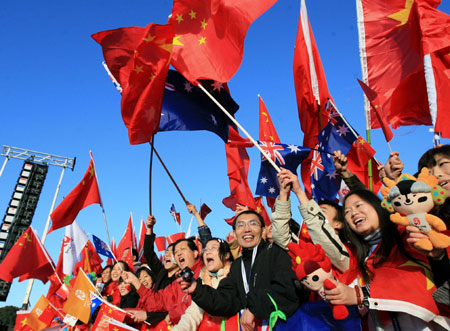 Overseas Chinese supporters wave Chinese national flags during the openning ceremony for the Beijing Olympic torch relay in Canberra, Australia, April 24, 2008. [Xinhua]
Tania Major, the young indigenous leader from Queensland, received the torch from Jiang Xiaoyu, Executive Vice President of the Beijing Organizing Committee for the 2008 Olympic Games (BOCOG), before running the opening leg of the touch relay.
"It is an honor for me to be the first runner," the 26-year-old Young Australian of the Year in 2007, told reporters on the eve of the torch relay.
Before the torch relay began, spectators had already enjoyed the pre-dawn fireworks, hot balloon inflation and performances by Chinese and Australian artists, among whom are Descendance Indigenous Dance Theatre and famous folk music singer Lee Kernaghan, who was awarded the Australian of the Year in 2008.
Eighty torch runners will run through the 16-km routes which started from the Reconciliation Place in front of the old parliament house near Lake Burley Griffin and will end at the Stage 88 in the Commonwealth Park, on the other side of the lake.
Thousands of spectators cheered when Tania Major took her first step to start the long-awaited torch relay. Along the relay route, many spectators, most of them with Chinese origin, were waiting for hours to see the sacred flames of the Olympic Games which has already toured 14 legs outside China.
To make sure the torch relay was running smoothly and safely, hundreds of police have been deployed along the routes and barricades have also been erected on both sides of the route.