CANBERRA: When the Olympic flame is carried through the Australian capital today, Carol Keil will have more reason than most to be excited, as she has worked with the Australia-China Friendship Society for 22 years, and is president of its Capital Territory branch committee.
"Even as a child, I remember my father talking about China and his interest rubbed off on me," she told China Daily.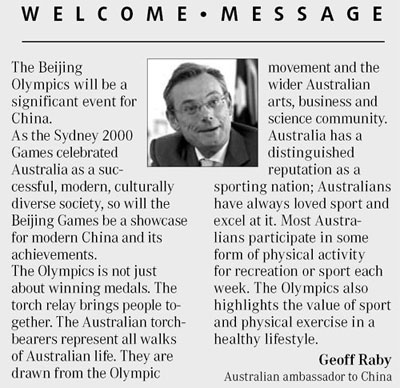 The Capital Territory committee organizes a range of China-related activities, such as the Lantern Festival celebrations, and setting awards for young people studying Mandarin.
"Being chosen as a torchbearer gives me a great opportunity to promote the friendship between Australia and China," she said.
Running the final leg of today's relay will be Olympic medallist Ron Clarke, who took part in the Melbourne Olympics of 1956. He will be joined by swimming legend Ian Thorpe and marathon runner Robert De Castella.
"The relay gives people the opportunity to get a glimpse of the Olympic Games, and allows them to get behind the Olympic movement," Thorpe said.
Meanwhile, Qu Yingpu, spokesman for the Beijing Olympic torch relay yesterday defended the role of the relay's flame attendants.
"In previous Games, including Sydney, the attendants were sent on international legs by the organizing committees of the host countries.
"The Chinese didn't invent this practice," he said.
Citing the relay's official manual, Qu said: "Flame attendants are deployed alongside and behind a torchbearer to respond to any immediate threat against the flame or torchbearer.
"These runners should be trained security personnel."
Qu also said: "The flame attendants also perform other functions such as turning torches on and off, and assisting torchbearers if they have any difficulties."