Chinese netizens are donating national flags to compatriots overseas in response to the wave of patriotism generated by the Olympic torch relay on its international journey.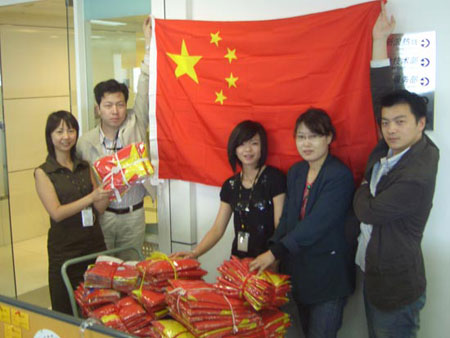 Staff members show Chinese national flags donated by netizens in a Sina.com office, Beijing, April 22, 2008. [sina.com]
The campaign, initiated by major web portals such as sohu.com and sina.com, has drawn a strong response nationwide.
"We received 13,000 national flags since last Friday, when the appeal was made online," Jiang Ziniu, Sohu's media relations director, told China Daily Tuesday.
Sohu has sent more than 3,500 flags to 24 cities in Australia, South Korea, the United States, Canada, Malaysia, Britain and France, he said.
One flag-maker also donated 1,000 flags via Sohu.
An official at Beijing's postal authority said the flags are being mailed free of charge - and through express service - to such destinations as Canberra, where the torch relay is tomorrow.
Sina.com said it has received 4,200 flags by Monday, and yesterday sent 1,000 flags to South Korea - where the torch relay will be on Sunday in Seoul. It welcomes donations of flags or cash.
One big national flag (1.99m2.88m) costs 50 yuan ($7) and a smaller one (0.96m1.44m) 15 yuan ($1.7).
Flags have also been sent to Japan - the torch relay is in Nagano on Saturday - Singapore and Thailand, it said.
Local flag-making factories are operating at full capacity to meet the demand.
Pei Wenjing, sales director of Beijing Yandu Flags Manufacture, said it had been receiving orders from overseas Chinese since the torch relay began last month.
"We are sending thousands of flags each day," she said.
The online campaign was started after media reports about a shortage of Chinese national flags overseas.
Tibetan separatists' disruptions of the torch relay during its London, Paris and San Francisco legs have also sparked outrage from Chinese students and local Chinese communities, who have organized rallies to counter the anti-China groups, creating a huge demand for flags.