JAKARTA: Thousands of people, including students and Chinese expatriates, on Tuesday joined a parade on the streets heading to a stadium where the Olympic torch relay was held, chanting support for Beijing's hosting of the 2008 Games.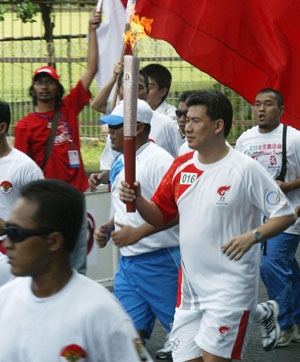 Indonesian badminton player and Olympic gold medallist Alan Budi Kusuma runs with the Olympic torch during the Beijing Olympic torch relay in Jakarta April 22, 2008. [Agencies]
The relay, which lasted three hours on a 7 km-route, concluded without major disruptions in the afternoon.
Large banners on nearby high-rise buildings read: "Indonesia Supports the Beijing Olympic Games."
Current and retired badminton - Indonesia's national sport - stars who were torchbearers included legendary Olympic gold medalist couple Alan Budi Kusuma and Susi Susanti, as well as 26-year-old Taufik Hidayat, Athens 2004 champion in the men's singles who lit the community cauldron with four others.
"We're very happy and proud (to be chosen as Olympic torchbearers)," said Kusuma, who carried the flame four years ago with his wife in Athens, and received the torch this time from her in Jakarta.
The only badminton couple to win gold medals in the same Olympics, Kusuma and Susanti said they hope their miracle could be replicated in Beijing.
It was the first time the Olympic torch passed through Jakarta, the largest southeastern Asian city.
"The Olympic flame will continue to burn in the hearts of our young people, just as it still burns in the hearts of all those it has inspired in the past," Rita Subowo, president of the National Olympic Committee of Indonesia, said at the closing ceremony.
And for Abdul Alek Soelystio, being chosen a torchbearer was also a personal honor.
Indonesia has the largest overseas Chinese population anywhere - the total figure is around 10 million, according to some estimates - and the 48-year-old businessman is a leader in the local Chinese-Indonesian community.
Soelystio, or Zhang Jinxiong as he prefers to be called in Chinese, is director-general of Jakarta-based Foochow Association, a foundation that provides support for those whose ancestors come from Fuzhou in Fujian province, as well as the local Chinese community at large. Zhang said he felt "very excited" and knew "it's going to be a lifelong memory".
The flame left on a seven-hour flight to Canberra last night.