KUALA LUMPUR - The Olympic torch relay went through Kuala Lumpur, the capital of Malaysia, amid cheers, screams and also rain, wrapping up its 13th leg of global journey on Monday.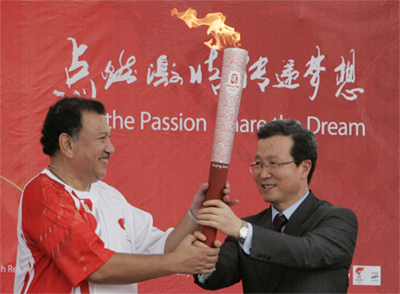 Cheng Yonghua (R), China's ambassador to Malaysia, passes the Beijing Olympic 2008 torch to the first Malaysian torchbearer, President of Olympic Council of Malaysia Tunku Imran Tuanku Ja'afar, in Kuala Lumpur April 21, 2008. [Agencies]
The relay completed running of 60 torchbearers fine and had to carry the last 20 in rain just after a short break in KL Tower, where a parachuting performance was put on.
The starting-off place was set in the Dataran Merdeka (Independence Square), which is situated in front of the Sultan Abdul Samad Building.
The president of Olympic Council of Malaysia Imran Ibni Tuanku Ja'afar was the first torchbearer.
"I am so excited to see the Olympic flame come to the city. It's a great honor not only for me to be the first torchbearer, as well as for the country and the city upon the Olympic flame's arrival," said Tuanku Ja' afar before the launching ceremony.
"I just took a surgery to cure my chronical knee disease in order to fully prepare for the torch relay, and now I am so happy to carry the flame," added Tuanku Ja'afar.
Everything went on well in great fashion as a large number of residents lined along the street to greet the relay until the downpour in the KL Tower, the city TV signal tower.
The relay had to suspend for a couple of minutes before wrapping up the last runs, but the rain didn't put out the passion of people at all. Some were waiting under the roof of buildings and some just remaining in the rain.
A Malaysian Chinese student named Wen Long ran all through in the company of flame full of exhilaration.
"It feels so terrific to run with the flame. The rain is nothing compared with my passion at the moment," said Wen.
"I am looking forward to the Beijing Olympic Games, but I have to take my class during the Games and can't go there. Running with the flame is able to make up for that regret."
Marina Mahathir, Lee Chong Wei and Tuanku Azlan Shah, Sultan of Perak are among the high-profile bearers.