International Olympic Committee (IOC) President Jacques Rogge Tuesday criticized violent protests that targeted the Beijing Olympic torch relay in London and Paris over the past few days, saying they are unacceptable.
"I'm definitely concerned about what has happened in London and in Paris," Rogge said. "I'm deeply saddened by the fact that such an important symbol has been attacked. We recognize the right of people to protest and express their views but it should be non-violent We don't accept violence."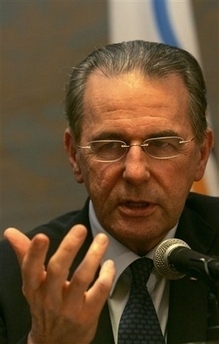 IOC President Jacques Rogge speaks to reporters during a press conference on Saturday April 5, 2008, in Singapore. [Agencies]
He made the remarks in Beijing on the sidelines of the General Assembly of the Association of National Olympic Committees (ANOC).
"The IOC definitely wants and wishes for the Olympic flame to be respected, because it is a very important symbol that unites people," he said.
Rogge said he is determined to deal with political interference in sports.
"If you have passion for Olympism, you know that you will have to fight against many things for the rest of your life," he said. "I would have to fight against doping. I would have to fight against injustice and inequality between rich and less rich countries. I would have to fight against a lot of issues. The influence of politics in sport is one of the many issues that we have to deal with every day in sport."
Reviewing the seven-year preparation by the Beijing Olympic organizers, the IOC president said he was "very happy with the progress".
"The preparation corresponds exactly to the detailed plan that we submitted to BOCOG in 2001, but there are still a couple of issues that have to be finalized. This is normal because we are now 120 days out of the Olympic Games."
On air pollution, he said Beijing's efforts are satisfactory.
"We applaud the Chinese government for taking many measures that will not only help the Beijing Games, but will also be a permanent improvement to handle the pollution issue in the country. So I think China is tackling that issue in a good way."
Support from Qatar
Crown Prince of Qatar Sheikh Tamim Bin Hamad Al Thani Tuesday gave strong support to the Beijing Olympics.
"Qatar Olympic Committee would like to state that it does not agree with the various calls to boycott the Olympic Games in Beijing," Sheikh Tamim, who is also chairman of Qatar's Olympic Committee, said in a statement.
"Qatar Olympic Committee strongly supports this important sporting event and it will endeavor to contribute to its success," he said.
Swedish IOC member Gunilla Lindberg also said Tuesday the protests surrounding the torch relay were "damaging the Olympic movement".
"I think it is very sad. I get angry," Lindberg was quoted as saying by AP.
IOC press chief Kevan Gosper said he was "desperately disappointed" by the chaotic scenes in Paris, but said the torch relay will go on as scheduled.
"My belief is the torch relay will stay on course, there may be adjustments to it, but I think it would be wrong to do anything other than try and get the torch through to its ultimate destination," he said.