BEIJING -- International Olympic Committee president Jacques Rogge on Monday called for unity of the Olympic Movement to overcome the difficulties.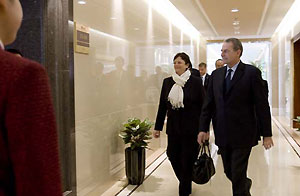 IOC President Jacques Rogge[R] and wife arrived in Beijing on April 6, 2008. [BOCOG] 
"I'm very concerned with the international situation and what's happening in Tibet," Rogge told delegates at the 16th assembly of the Association of National Olympic Committee (ANOC) in Beijing.
"The torch relay has been targeted. The International Olympic Committee has expressed its serious concern and calls for a rapid peaceful resolution in Tibet," added the IOC chief.
"Violence for whatever reason is not compatible with the values of the torch relay or the Olympic Games," Rogge said.
Rogge acknowledged that some politicians have played with the idea of boycotts, but said there is "no momentum for a generalized boycott."
"We need the unity of the Olympic movement to help us overcome the difficulties. Our major responsibility is for offering good games to the athletes who deserve them," Rogge said.
"The athletes deserve and the world expects it, and the unity of the Olympic movement will deliver it. "