St. PETERSBURG, Russia -- The Olympic flame for the Beijing Games landed in St. Petersburg at 3:15 local time on Friday morning for the third leg of its global journey.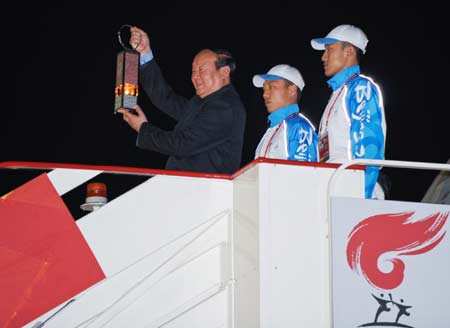 Jiang Xiaoyu (L), the executive vice president of the Beijing Organizing Committee for the 2008 Olympic Games (BOCOG), walks out of the cabin with the lantern which holds the Olympic flame in his hands at the airport in St. Petersburg, Russia, April 4, 2008. St. Petersburg is the third stopover of the 2008 Beijing Olympic Games flame relay outside the Chinese mainland. [Xinhua] 
St. Petersburg vice mayor Sergey Tarasov and Chinese ambassador to Russia Liu Guchang welcomed the arrival of the flame in a brief ceremony at the airport.
The city relay on Saturday is set to cover all landmark constructions in St. Petersburg, passing Victory Square, Moscow Triumphal Arch, City Hall, Monument to Peter the Great, the Palace Bridge, Nie Tile River, Birzhevoy Bridge, Peter Luobafuluofusike Fort, the Cruiser "Aurora", Winter Palace, Egyptian Meta Date Museum, Yisa Kiev Cathedra, Yisa Kiev Cathedra, Sack Cathedral, Navy Headquarters building, Imperial Palace, Nie Tile Avenue and December Party Member Square.
High-profile torchbearers consist of Leonid Drachevsky, deputy CEO executive board member of RAO UESR and Valentina Tereshkova, Yuri Gagarin Cousmonaut Training Center.
The city is dubbed the "north Venice" for abundant water resource with 93 water channels distributing in the city.
Saint Petersburg is a city and a federal subject of Russia located on the Neva River at the east end of the Gulf of Finland on the Baltic Sea.
Founded by Tsar Peter the Great on May 27, 1703, it was the capital of the Russian Empire for more than two hundred years (1713-1728, 1732-1918).
St. Petersburg ceased being the capital in 1918 after the Russian Revolution of 1917. It is Russia's second largest and Europe's fourth largest city (by city limit) after Moscow, London and Paris.
Five million people live in the city, and over 6 million people live in the city's vicinity. Saint Petersburg is a major European cultural center, and important Russian port on the Baltic Sea. The city, as federal subject, has a total area of 1,439 square kilometres.
Among cities of the world with over one million people, Saint Petersburg is the northernmost.
The Historic Centre of Saint Petersburg and Related Groups of Monuments constitute a UNESCO World Heritage Site. Russia's political and cultural center for 200 years, the city is impressive, and is sometimes referred to in Russia as "the Northern Capital".