Beijing – President Hu Jintao officially launched the Beijing Olympic torch relay Monday on the Tiananmen Square, marking the start of the torch's 130-day global tour before the 2008 summer Olympics in August.
Beijing mayor Guo Jinlong presided over the launch ceremony as China's 110m hurdles record-holder Liu Xiang was the first to carry the Olympic torch.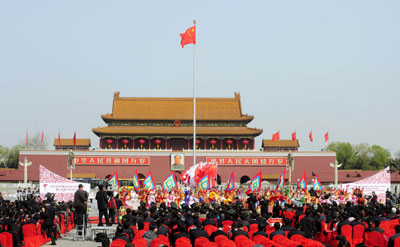 People celebrate the arrival of the Olympic flame in Tiananmen Square, March 31, 2008. [Xinhua]

The torch arrived in Beijing to great fanfare. At Beijing Capital International Airport, hundreds of people waved Chinese and Olympic flags as the Air China plane arrived from Athens at 8:55am local time on Monday.
Yesterday the torch was handed over to Liu Qi, president of the Beijing Olympic Organizing Committee (BOCOG) after a six-day relay through Greece in a ceremony in the Panathenaic Stadium in Athens.
After the plane came to a stop on the Beijing tarmac, Liu Qi walked down the stairway carrying the flame in the Olympic lantern.
A short time afterwards the flame was whisked off to Tiananmen Square for a colorful welcoming ceremony. Dancers and acrobats gave a lively 20-minute performance to a seated audience in the square.

Special guests included those from the International Olympic Committee, the Hellenic Olympic Committee, as well as representatives from the Hong Kong and Macau special administrative regions.
Liu Qi gave a speech, saying the Olympic flame "embodies hope and dreams, peace and harmony… spreading the message of peace and friendship uniting them under one world, one dream". He thanked the Greek government and the IOC for organizing the lighting ceremony and torch relay through Greece.
On behalf of IOC President Jacques Rogge, head of the IOC coordination commission Hein Verbruggen said the flame will "create anticipation and excitement wherever the flame passes". He added people will be touched by the Olympic flame, igniting their passion to participate in the event.
Vice President Xi Jinping also gave a short speech. "The century-old dream of the Chinese nation to host the Olympic Games has become a reality." Xi also said the Games was an opportunity to showcase the Chinese people's passion for the Olympics.
Following the speeches, President Hu Jintao took the torch and lit the cauldron before handing the torch to hurdler Liu Xiang. Hu then declared the torch relay was officially launched as Liu ran through the square.
On April 1, the torch will begin its global tour and arrive at Almaty, Kazakhstan first. It will visit 21 cities outside Chinese mainland and travel across 113 cities of all 31 provinces, autonomous regions and municipalities in the mainland.
The flame returns to Beijing on August 6.