OLYMPICS
/
News
---
IOC President explains why Beijing Games is exceptional

China Daily
Updated: 2008-09-17 20:55
There are many aspects that the Beijing Games is exceptional, International Olympic Committee (IOC) President Jacques Rogge told China Daily on Wednesday in Beijing.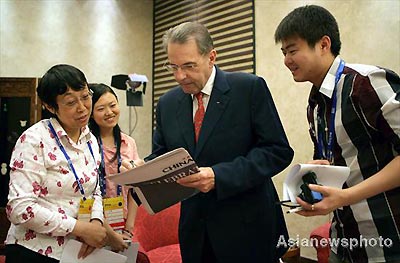 IOC President Jacques Rogge (right second) discusses China Daily's coverage of the Beijing Olympic Games with the newspaper's Deputy Editor-in-Chief Huang Qing (left first) in Beijing on September 17, 2008. Rogge said China Daily deserves a gold medal for its "very good job". [Photo by Xu Jingxing/China Daily]

First of all, it is the Games in a country of 1.3 billion people. It is something no other country can.
It is also exceptional because of the quality of competitions, we had the biggest number of the world records ever in the Olympic Games. We had great performances. We have many many national Olympic committees winning medals and many won the golds for the first time.
We had an excellent organization. The venues are full with very positive and very warm crowds. And the weather is good. So it's exceptional.
Talking about China Daily's coverage of the Games, especially its publication of the Olympian, Rogge said: "Once in a while, I had the opportunity to read the newspaper. You did a very good job and you deserve the gold medal."