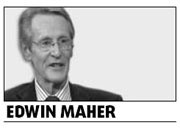 While the Paralympics enjoy center stage and memories of the 2008 Olympics take a temporary back seat, a new perception of China seems to be unfolding. A Chinese work colleague with limited English came up to me the other day to express her feelings about how the world now looks at her country.
"Many people didn't like us Chinese before the Olympics," she declared, "but now they see us as good." Her words were profound because I believe they echo the thoughts of many who live here.
Today during lunch with a more senior colleague who has no trouble speaking in English, came another view: "There was a perception that the Olympics would be an event to show off China in a purely political way. But in reality, China showed that the Olympics were for the whole world."
The gulf between perceptions and realities about China has always been wide. But like a ditch filled with hardened objects, the Olympics and indeed the Paralympics may be doing more to bridge that divide than any other event in this country's history.
I had a special experience during the Olympics with my sports-crazy son from Melbourne. It was the first time in many years we had stayed so long under one roof. While my apartment is large enough for me, I wondered if four weeks together might test the father and son relationship.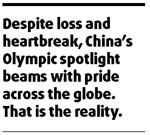 Adrian wasted no time fighting his jetlag and late night arrival in the week leading up to the Big O. Next morning he found the China Daily supplement of broadcast times of CCTV's coverage and marked off the "must-see" events. Next he checked for websites which would constantly update the competitions we would be watching.
Both of us wanted to experience the atmosphere of the August 8 opening ceremony among a crowd of real locals. My Chinese family took us to a public park near their home in Xuanwu - one of the older districts of Beijing to watch the telecast on a giant screen.
Sitting down with hundreds of locals, it could have been any outdoor event, but as the seconds counted down to 8.08 and the first images appeared, the excitement was unstoppable.
Everyone burst into spontaneous applause, and while it might not have been a front row seat at the National Stadium, ours was a comfy bird's nest all its own and a night never to be forgotten.
Initially I had secured tickets to only two events - hockey and athletics - but we ended up going to more, courtesy of generous Chinese and expat friends. We even bought football tickets near the stadium in Tianjin after going there on a day trip to experience the amazing high-speed train.
Everyone has some unforgettable Olympic moments and we had our share - from the highs of Australian swimmers to the lows of Liu Xiang's withdrawal. At times Adrian and I cheered for opposing teams when my fellow Kiwis took on his Aussies and secured the bronze medal in the men's cycling team pursuit.
For this father and son who don't see each other often, the Olympics gave us a chance to renew our own relationship. We talked about many things including China - events both recent and past - as well as what might be its future.
The roof didn't crack with both of us sharing it for a month. If anything, our bond strengthened. Maybe there is something in that adage, "absence makes the heart grow fonder."
China might have the same effect on visiting Olympians after this double bill of sporting spectacle. For them, their support staff, families and friends, China has shown itself as a most friendly host, be it the beaming smile of Premier Wen Jiabao, the ever-present volunteers, or the ordinary Beijing residents offering visitors a simple "hello". These are lifetime memories.
Analysts of the Games will write about them for years to come. They will be re-analyzed by future generations and it would be tempting to have a crystal ball to see what they say.
The Olympics have given China its greatest springboard to be seen by a world eager to learn more about the country, people and culture. Despite the overwhelming positive feedback, changing the minds of the harshest critics may be a challenge of Olympic proportions.
Some had predicted gloom and doom for the Olympics, especially the weather. Indeed a few months ago it seemed 2008 was going to be a rat of a year in more ways than one. From snowstorms in the south to earthquakes in Sichuan, what shock would the roller coaster produce next?
Despite loss and heartbreak, China's Olympic spotlight beams with pride across the globe. That is the reality.
The author is a New Zealand-born TV journalist who now works in China