The country's tourism industry is set to receive a boostin the wake of Beijing Olympics, a worldwide survey has found.
About 45 percent of 26,000 people polled in 26 countries and regions said after seeing the opening ceremony of the Games they now intend to travel to China at some point, the survey conducted by media and information group Nielsen and released on Thursday said.
The figure increased to 51 percent after the closing ceremony of the Games on Aug 24.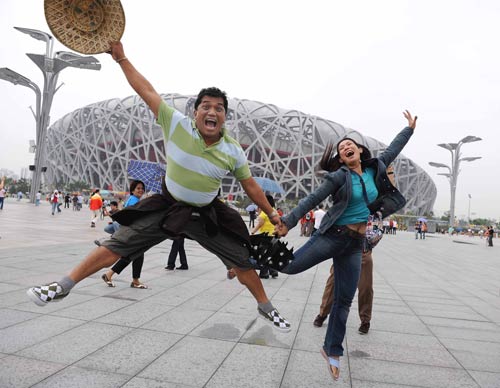 Two of Philippine tourists took photos in front of the National Stadium on September 7, 2008. [Xinhua]
Those who claimed to have no interest in visiting China dropped from one-third of the total number of respondents to about one-quarter over the course of the Games, which lasted 17 days.
Interest in visiting China was highest in Singapore (86 percent). Four in five people from India expressed interest in traveling to the country, while more than two-thirds of those in Mexico (72 percent), South Africans (69 percent) and South Koreans (66 percent) showed similar interest.
More than eight in 10 of those surveyed had never visited mainland China before.
"The strong intention among the international audience to visit China has a lot to do with the positive image China has successfully built with the Olympic Games," Grace Pan, head of leisure and travel research at Nielsen Company China, said.
Related readings:

 Nationwide plan to boost tourism in less developed areas


 Quake-hit Sichuan to invest $11.6b to restore tourism


 Beijing expects tourism boom


 Olympics promotes Qingdao tourism
The Beijing Games attracted a record 4.7 billion audience, a Nielsen study showed.
Seven in 10 viewers across 16 countries and territories agreed that Beijing appeared more modern and hi-tech than they had expected, the recent survey found.
In Beijing, 92 percent foreign visitors polled rated Olympic venues as "very good" or "good".
As for Beijing's environment, more than half of those polled (56 percent) after the closing ceremony said it exceeded their expectations.
Similarly, among those who had visited China before, more than eight in 10 of those polled said they intended to visit the country again.
China is poised to become the world's hottest tourist destination by 2020, receiving 137 million overseas tourists in that year alone, the World Tourism Organization has said. The country is also expected to generate 100 million outbound tourists by then.
"With the Beijing Olympics generating such strong interest in China, they may well reach these numbers earlier than anticipated," Pan said.
Still, sources with travel agencies said the orders they have received so far showed it was not all rosy in the inbound tourism market.
Partly because of a stricter visa policy that was adopted for security reasons during the Olympics, Beijing had received 389,000 overseas tourists in August, a drop of 7.2 percent compared with the same period last year, the Beijing tourism administration said.