BEIJING -- Two Chinese airlines announced plans Wednesday to hire 250 volunteers who served as hostesses at the Beijing Olympic and Paralympic Games.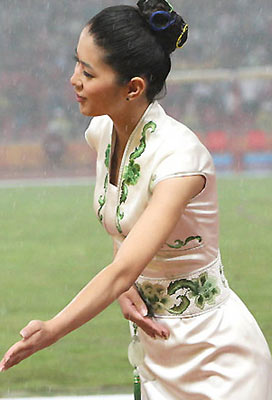 A volunteer gestures at the awarding ceremony inside the National Stadium, or the Bird's Nest, during the Paralympic Games in Beijing, September 9, 2008. [Sohu.com]
China Southern (CS), based in southern Guangzhou, will recruit 100 new stewardesses from the volunteers.
CS, one of the country's three main air carriers, is taking job applications now through September19. All young women with hostess experience at either of the two games can apply to take the air stewardship test. The Top 100 will be hired.
"Olympic or Paralympic Games ceremony maids impressed people from all over the world with their good service," said a CS executive who declined to be identified. "Our recruitment is meant to thank them for their contribution."
After training, stewardesses will be assigned to either Beijing or Guangzhou. Some of them could work on Airbus 380, which will soon be delivered to CS. New hires could also serve at the 16th Asian Games which start in November 2010.
HNA Group, a Chinese airlines based in Haikou, capital of Hainan Province, said two of its subsidiaries, Grand China Air (CN) and Hainan Airlines Company Limited (HU) would  also recruit 100 in-flight stewards and stewardesses from the Game's volunteers.
It also plans on hiring another 50 volunteers to work in its management, investment and financing departments.
Related readings:


 Paralympic hostesses keep bright smiles on a rainy day


 Perfect hostesses outclass sexy cheerleaders


 Medal ceremony hostess outfits unveiled


 Air hostess picks up chocolate bar, wins space trip
According to Liu Jian, director of the volunteers department of the Beijing Organizing Committee for the Games(BOCOG), Beijing recruited more than 74,000 volunteers. They provided services at venues, the Olympic Village and media centers. Volunteers came from 98 countries and regions. The oldest volunteer was 87.
The Paralympic Games required 44,000 volunteers. They came from 27 countries and regions.Ninety percent served at the Beijing Olympic Games, said Liu..
BOCOG also recruited 400,000 people to offer information services, translation and first aid at 550 temporary volunteer stations around the capital.