For most Chinese, cycling conjures up two very different images: on the one hand, a familiar form of transportation; on the other, an esoteric European sport.
All that is about to change, thanks to the Olympic Games. A record-breaking seven Chinese riders were entered in the Games, and public interest in competitive cycling has never been greater.
"The Olympics is a perfect showcase for Chinese cycling," Chinese Cycling Association (CCA) president Jiang Guofeng said. "People are seeing that there is much more to cycling than just transportation."
On the opening day of the Games, Chinese Central Television covered the men's road race live. Last Tuesday, the women's sprint, in which Guo Shuang took the bronze medal, attracted national attention.
Tickets for the track and mountain bike events were sold out in April, according to the organizers.
"Cycling hasn't had much public exposure in China, but Chinese fans got to know it through the Olympics," Guo said.
Guo, who is perhaps China's best known cyclist, started cycling competitively when she was 13. In 2002, she was sent to the World Cycling Training Center in 2002 to train with French coach Sebastien Dulcus.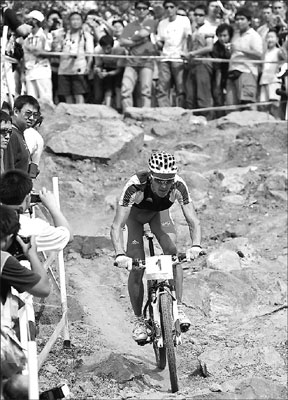 France's gold medal winner Julien Absalon rides through a downhill section in the men's cross country mountain bike race at the Laoshan Cycling venue in Beijing during the Beijing Olympics on August 23. AFP
Guo signaled her progress with a podium finish at the 2006 World Championships. At the Asian Games in Doha later that year, she won two golds. Sports authorities then hired Daniel Morelon - another Frenchman and a four-time Olympic champion in the 1960s and 1970s - who guided Guo to silver medals in the kierin and the sprint at the 2007 World Championships. She placed fourth in the 2008 World Championships in March.
But Guo is the exception to the rule. Most Chinese do not get professional coaching, and few get a chance to compete internationally.
"People treat us like pandas in Europe," said Guo. "I thought we were a cycling country, but in the world of competitive cycling, we are actually outsiders."
Unlike European countries, where children are exposed to cycling at an early age, relatively few Chinese are recruited and trained by local sports academies. A budding Lance Armstrong or Carlos Sastre may never be discovered, since China has limited opportunities for junior cyclists and only two major events, the annual National Championships and National Games, which take place every four years.
But Jiang believes the situation is changing.
"We have nothing to build on, because there isn't any competitive cycling tradition in China," he admitted. "The first thing we are looking to do is to promote the sport nationwide."
According to the International Cycling Union (UCI), a ProTour race is likely to take place in China within two years. Also, the sport is starting to catch on at the grass-roots level, thanks to the efforts of the CCA and of major bike companies, which have started to invest in China's colossal but largely untapped market.
The United States manufacturer Trek stages several national amateur races each year and sponsors China's only professional team, Marco Polo.
Since 2005, the CCA has sent more than 20 riders overseas to compete in more than 30 events a year, which enables them to improve their skills faster than if they remained in China.
This effort appears to be paying off. Guo took the bronze in the women's sprint last Tuesday and nearly got the silver; she was disqualified for bumping Anna Meares of Australia in the semifinal.
In addition Li Yan reached the final of the women's point race, finishing 10th, while Zhang Liang became the first Chinese to compete in the men's road race, although he failed to finish.
China's mountain bikers, Ren Chengyuan finished fifth and Liu Ying came 12th in the women's event.
While BMX rider Ma Liyun became the first ever Chinese rider to compete at the Olympics.
"I've seen an all-around improvement in Chinese cycling," Ma said during a press conference held by Nike. "It's just a matter of time before we can be a force in the world."
China's progress is already being acknowledged by elite riders.
"There's no doubt they are moving up," said men's road race gold medalist Samuel Sanchez.
"You have to be patient. It takes a long time to build a cycling tradition. But as long as you have a good foundation, it is just a matter of time before Chinese riders win major events around the world."
(China Daily 08/28/2008 page23)