A variety of tactics and a unique style, not just home advantage, was the key to China's breakthrough in Olympic boxing, Chinese boxers and coaches said Sunday.
Chinese boxers showed solid defense and clever counter-attack skills en route to winning two Olympic boxing gold medals, one silver and one bronze - its best-ever performance in the sport. Boxers and coaches said it was a display of typical Asian boxing style.
"We play like Asians in the ring. We are simply more flexible. That's our style," said new light flyweight Olympic champion Zou Shiming, who is famous for the "pirate boxing" tactics developed by his long-time coach Zhang Chuanliang.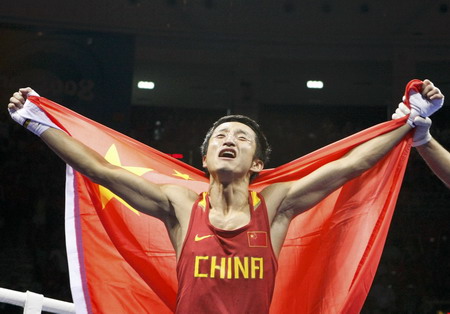 Zou Shiming of China celebrates after defeating Purevdorj Serdamba of Mongolia in their light flyweight (48kg) final boxing match at the Beijing 2008 Olympic Games, August 24, 2008. [Agencies]
On his way to claiming China's first boxing gold medal, Zou's swift footing enabled the former wushu athlete to keep himself untouchable to opponents by staying constantly in motion in the ring.
At the Sydney and Athens Games China's boxing tactics were not as advanced as they are now. China won only one bronze medal in Athens; all three of its boxers were knocked out of the competition in their first bouts in Sydney.
"Over the years, we have not hired any foreign coaches, but we developed a training system different from the West both in terms of pace and technique. Our way of training and tactics are based on the advantages of Asian boxers, who tend to move swiftly," said Zhang, Zou's 54-year-old coach who has trained the Grand Slam boxer for eight years.
"Zou is perhaps the best case," Zhang said.
Even China's heavyweight boxers stick to flexible tactics.
"No matter what difficulties we run into, I always tell my students to keep a cool mind and never lose our own strategy, which focuses on swift counter-attacks," said Chao Lu, a former Olympic boxer who coached 26-year-old Zhang Xiaoping to win a surprising gold medal in light heavyweight 81kg.
The 1.88m Zhang was a giant killer in Beijing, using his counter-attack strategy to knock out Russia's World Championship silver medalist Artur Beterbiev in the second round, Kazakhstan's Yerkebulan Shynaliyev in the semifinal and Ireland's Kenny Egan in the final.
Boxers were also told not to abandon their strategy no matter what happened.
"I told Zou to never lose his brain in the bout. Play as we plan and we can discuss the next tactics in the intervals according to the changes the opponent makes. Our tactics differ from bout to bout and from round to round," said Zou's coach Zhang.
"I am always very calm, because I know I have to stay cool in order not to get intimidated by my opponent and stick to my tactics," said newly crowned light heavyweight champion Zhang Xiaoping.
But what happens when Chinese boxers play aggressively like their European opponents? China's welterweight boxer Hanati Silamu, for example, tried a head-on clash with silver medalist Carlos Banteaux Suarez from Cuba in the semifinals. He lost 17-4.