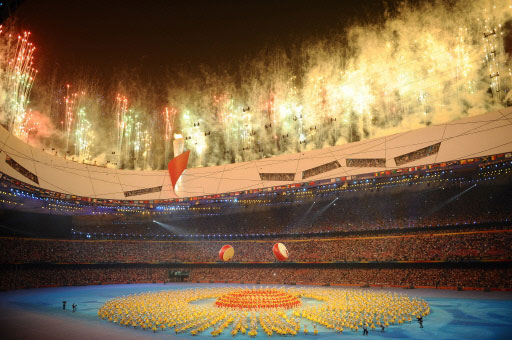 General view shows the National Stadium also know as the "Bird's Nest" at the start of the closing ceremony for the 2008 Beijing Olympic Games at on August 24, 2008.[Agencies]
Click for video
BEIJING--By the moment the Olympic flame atop the Bird's Nest goes out, it is proved that Beijing has lived up to the trust of the world, by turning the opportunity the Chinese capital won seven years ago into a 16-day miracle that will forever shine in Olympic history.
Most of the Olympic Games so far have been hosted by developed nations, but China has shown it can do as well and even better.
The success of the Beijing Olympics demonstrates the great achievements the ancient oriental nation has attained during the three decades of reform and opening up, without which the "high-standard and unique" Games would have been impossible.
Moreover, Beijing has done everything possible in the past seven years to fulfill its commitments to the international community and to guarantee the successful Olympics.
Chinese President Hu Jintao said that the Beijing Olympics organizers did a great deal of work and achieved outstanding results in all aspects, including venue and infrastructure construction, environmental protection, city operation, security and media service.
He said the work implemented the concept of the "Green Olympics, High-tech Olympic and People's Olympics", which will in turn play a significant role in promoting China's environmental protection, scientific innovation and public participation in social affairs.
Beijing made it a priority to reduce air pollution over the past decade to fulfill the Green Olympics concept. The municipal authorities invested about 120 billion yuan (17 billion U.S. dollars) in this effort.
Beijing relocated part of the Shougang Group, the nation's leading steel makers and the capital's major polluter, and temporarily or permanently shut down hundreds of factories that caused heavy pollution.
Neighboring cities and provinces also joined in the campaign by closing major polluters, removing high-emission cars from roads and restoring grassland vegetation.
As a result, the number of "blue sky" days in Beijing - an indicator of air quality - increased to 246 last year from 100 in 1998.
From July 20, more than three million automobiles in Beijing have been ordered to run on alternating days according to the last even or odd digit on the license plate, a move expected to reduce 60 percent of car emissions and ease traffic.
Engineers and technicians made a lot of innovations in the construction of Olympic venues such as the National Stadium and the Aquatic Center, which is an manifestation of "High-tech Olympics".
"To carry out the concept of the people's Olympics, we were people-oriented in designing and building venues. We also advocated civilized behavior among citizens, organized Olympic-related cultural activities in schools and to absorb volunteers from all walks of life," Beijing Organizing Committee of the Olympic Games president Liu Qi said earlier.