Over the past few weeks, readers have posted hundreds of their viewpoints, observations and wishes regarding the Olympic Games at http://Chinadaily.com.cn/olympics, sharing their passion for the greatest sporting event held in China between August 8 and August 24.
Below are some of their comments.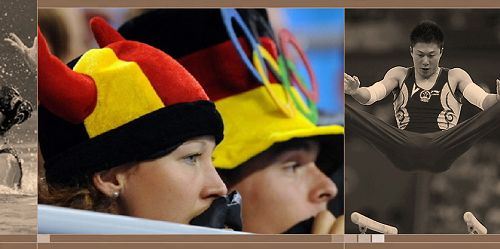 Best of Luck for Beijing 2008
Blessing for Beijing Olympic Games
Marcos, Paraguay:

Donald, US
The Chinese are great people hard working, never idle, I went to Changsha China Hunan to meet the love of my life, and everyone I met were so humble toward me as if I was someone or some body, but that's the Chinese it doesn't surprise me that they have so many medals they deserve them.
Ron Zonke, South Africa
I just wanted to express my deepest and sincere gratitude to everyone responsible or making Beijing 2008 a success. I am not really into sports, but the opening ceremony was one of the most outstanding things I have ever watched in my life. It was breathtaking, and I was crying my eyes out for 2 hours after I finished watching it... all the way in South Africa.So, congratulations, to One World One Dream.It was amazing. I hope that a video will be made available for sale of that opening ceremony because it is an event to remember!
Marcos, Paraguay
Best greetings for all sports fans of the world. Olympics Beijing 2008 is really great. I wake up early in the morning to watch my favorites sports like football, tennis, basketball, gymnastics, swimming and athletics, of course. I think a lot of people are doing the same, in many countries. These games are showing a close competition in race medals between China and USA. But all players show great performance too. Because here are 12 hours of difference to China, sometimes I don't know when is day or night in Beijing.
Ernesto Chikoti,Angola
I'm very happy with the way the Chinese organised the olympic games, I can even say that the beijing olympic games is one of the most beautiful ever in the history of the olympic games,China made a very exiting olympic games & I like the theme too, ONE WORLD ONE DREAM.
Simon,Australia
Let China and all peoples of good will around the world rally to make this Beijing Olympics the best ever . This is China's opportunity to show the world how peaceful she is , and for the world to show their friendship being extended to China . Let the whole world be united in this celebration .
Philip Bell,US
From an American Citizen of 58 years, I have never scene such a magnificent opening ceremony for any Olympics as the one China has given the world. Truely a monumental achievement representing the heart and soul of the wonderful Chinese people. All my senses were stimulated watching the opening events unfold, each one better the the previous one. All I can say is Thank you for the best Olympics EVER..!!
Thank You, CHINA
Allan Abshez, Los Ang
Thank you China and Beijing for your tremendous hospitality and the fantastic Olympic experience you've been providing to us and the world. Our family will never forget all we learned during our stay and the warm smiles of welcome on the faces of all the people we met. Go China!
Ivan Fabian, Slovakia
The Best Olympic Games in History. I am happy that we are the best on Wild Water. Best regards to Chinese people, to all sportsmen. I will see you on Paralympics in September.
Mohan,Thailand
"One World One Dream" So beautiful caption... We are one...No place for hatred, jelousy, anger,fights between nation to nation.. Let the whole world say unitedly "One World One Dream"Thank you China...
An Indian Yoga Trainer from Bangkok