BEIJING -- Russia's volleyball team repeated as an Olympic bronze medal winner Sunday when it defeated Italy in three sets.
The Russians, also third in Athens, were businesslike in 25-22, 25-19, 25-23 victory. Their celebration afterward was muted.
"We can say it's not for nothing that we have come to the Olympics," captain Vadim Khamuttskikh said. "Of course we had greater plans than this, but we have received the bronze medal and we also hope in the future our performance will improve further."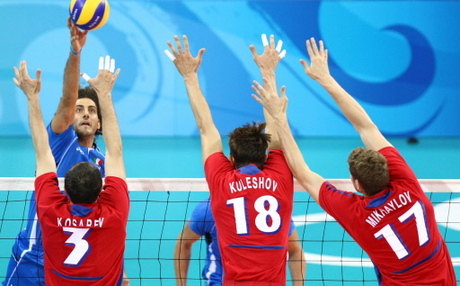 Italy's Alessandro Fei (upper L) spikes the ball as Russia's Alexander Kosarev (L) Alexey Kuleshov (C) and Maxim Mikhaylov (R) attempt to block during the men's volleyball bronze medal match in the 2008 Beijing Olympic Games in Beijing on August 24, 2008. [Agencies]
Russia was ranked No. 2 in the world behind Brazil going into the games. The defending champion Brazilians were set to play the undefeated United States in the gold-medal match later Sunday.
Russia lost to the United States in a five-set semifinal, while Italy - the silver medalists in Athens - was defeated by Brazil 3-1 in the other semi.
The Russians, meeting Italy for the first time in the Beijing competition, jumped out to a 15-8 lead in the first set after Matteo Martino couldn't stop Maxim Mikhaylov's spike.
But Italy went on a five-point run capped by Hristo Zlatanov's ace to close within 18-17. Zlatanov's spike evened it at 20, but the Italians could not pull ahead and Russia won the set on Alexander Kosarev's spike.
Russia again went ahead early, when a four-point run highlighted by Mikhaylov's ace made it 8-1. Italy narrowed it to 16-12 on Alessandro Fei's block, but Russia went on to win the set when Matteo Martino served into the net.
Italy evened the final set at 9-all when Mikhaylov's spike went out, but again could not manage to take a lead. The Italians came within 24-23, but Russia won it on Alexander Volkov's spike.
The Italians were emotional throughout and several times tried to argue the referee's calls, in sharp contrast to Russia's approach.
Even when Russia won it, there wasn't much jubilation. After a brief gathering on the court with the coach, the Russians applauded their fans then went to the bench to gather their things.
Italy's Luigi Mastrangelo, who injured his left ankle against Brazil, returned for the team's final match.
"There's a lot of bitterness that we feel, a lot of bitterness inside all of us. We were hoping for more," Italian captain Alberto Cisolla said. "We were hoping to get better results than what we did today."
Mikhaylov led Russia with 20 points, while Fei had 15 for Italy.
Russia was the silver medalist in 2000. The team won gold in 1964, 1968 and 1980.
In Beijing, the Russians went 4-1 in preliminary pool play. They defeated Bulgaria 3-1 in the quarterfinals before the loss to the US team.
Italy defeated Poland 3-2 in the quarterfinals after going 4-1 in their pool with a loss to the United States.
Italy also won a silver medal in 1996. They finished as bronze medalists in 2000 and 1984.