Kenenisa Bekele of Ethiopia won the 5,000m yesterday in an Olympic record time to complete a distance double for himself and a unique double for Ethiopia.
Bekele, 26, who had already successfully defended his 10,000m title, won the 5,000m final in 12 min, 57.82 sec.
Kenyan Eliud Kipchoge was unable to follow Bekele when the world record-holder broke for home after the bell and finished second in 13.02.80. His compatriot Edwin Cheruiyot Soi took bronze in 13.06.22.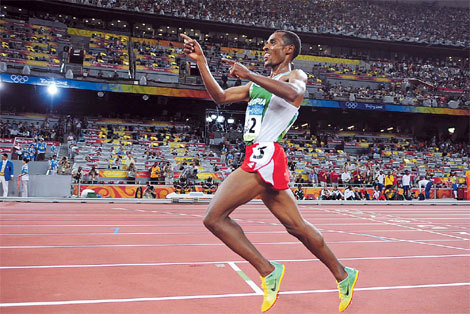 Ethiopia's Kenenisa Bekele celebrates winning the men's 5,000m final at the National Stadium August 23 2008. [Agencies]
It was a double double for Ethiopia: Tirunesh Dibaba won an unprecedented women's 5,000-10,000m combination on Friday.
The last person to do the 5,000-10,000m double in the Olympics was another Ethiopian, Miruts Yifter, and he did it 28 years ago, in the Moscow Games.
A three-time world champion at 10,000m, Bekele just missed a double in Athens 2004 four years ago. He got the 10,000m gold but finished second to Moroccan great Hicham El Guerrouj in the 5,000m.
Yesterday, Bekele alternated the early pace-setting with his younger brother Tariku and fellow-Ethiopian Abreham Cherkos.
With five laps to go, Bekele hit the front with a little spurt that immediately thinned the pack and saw Kipchoge come through to second.
The Kenyan, who has won world gold (2003) and silver (2007), followed Bekele through the 4km mark in 10:32.6.
When the bell sounded for the final lap, Bekele stepped on the gas, building up an insurmountable 25m lead over Kipchoge down the far stretch.
As he rounded the corner into the final straight Bekele, seeing the gap he'd built up over the Kenyans on the stadium's giant screens, wagged his finger and grinned broadly as he crossed the finish line.
Agencies