Australian Matthew Mitcham wrecked China's hopes of securing all eight diving medals by taking the last gold of men's 10m platform last night.
The 20-year-old beat China's Zhou Luxin into second place in a thrilling climax to the diving events series at the Water Cube.
The Australian, who had never won a previous title, said it was difficult to take in his victory.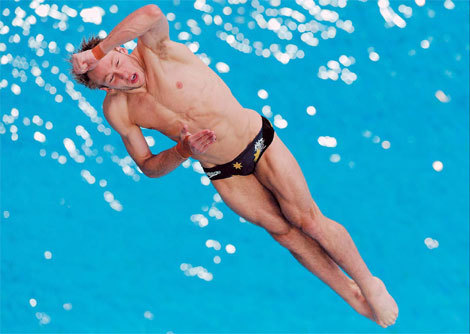 Australia's Matthew Mitcham dives on his way to gold August 23 2008. [Agencies]
"It is absolutely surreal. I never thought it was possible. It's going to take a while to sink in. My cheeks hurt from smiling, my face hurts from the chlorine, my legs are sore from jumping up and down. I'm in pain and I'm tired. But I'm so happy," he said.
The Australian's unexpected victory was a complete reversal of what had happened earlier in the evening.
With consistent performances in the first five dives, Zhou, the current World No 2, led by a margin of more than 30 points into the last attempt. But he failed to seal his victory in the last dive, which earned him only 74.80 points.
Mitcham produced a total score of 112.10 for his dive in the last round, earning him the highest score of the day.
"(Before the last dive) I didn't let anything external affect what I was feeling, because it is only what is inside your mind that can really affect how you are going to dive," he said. "I couldn't hear the crowd. In my mind, I was saying, just enjoy it."
His Beijing triumph comes after extensive training following a long break from competition last year.
"Coming back, everything I did was to win an Olympic gold medal," he said.
"I was training every single day, two times a day, 11 sessions a week, 30 hours a week. Before every single dive, it was going through my mind I wanted to win Olympic gold. I've been training my hardest before every single training session for the last year-and-a-half to win this medal."
Seven golds was still a record for China's diving team, coming after six at Athens and five in Sydney.
"We have already done a great job this time since seven golds medals is enough to show the strength of the Chinese diving team, but there has to be regret we failed to win the eighth one," said Zhou.
"Before the last dive, I didn't notice the exact scores, but realized that I might have a chance to win. Maybe I anticipated a successful dive too much, so there might have been something technically wrong. The gold medalist has done really well today."
The men's 10m platform has always been considered a weak point for the "diving dream team" since the retirement of Sydney Olympic gold medalist Tian Liang.
Hu Jia, the individual gold medalist in Athens, who might have put up a stronger challenge, failed to make the squad due to injury.
Russia's world champion Gleb Galperin took bronze, while another Chinese, Huo Liang, finished fourth.
The 14-year-old "diving prodigy" from Great Britain, Thomas Daley, finished in seventh in his first Olympic Games.
He said last night: "I'm really happy I made the final and it is a very good experience going into London 2012, because I know what the Olympic final is going to be like.
"I can go to London 2012 feeling more confident. I would love to be the champion in the London Games but there is a lot of hard work to come."