OLYMPICS
/
Team China
---
Liu Xiang's injury healable, official says

Xinhua/Agencies
Updated: 2008-08-24 00:06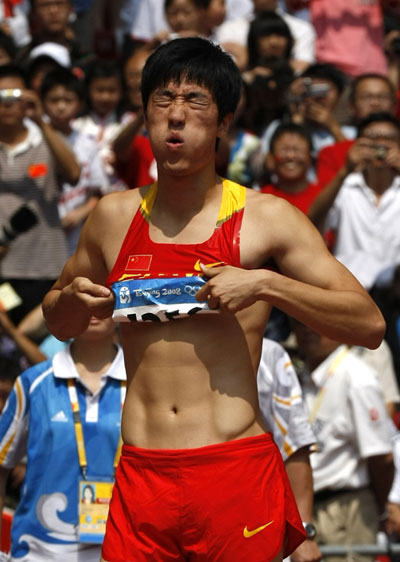 Liu Xiang of China grimaces in pain during his warm-up before the start of his 110m hurdles heat of the athletics competition in the National Stadium at the Beijing 2008 Olympic Games August 18, 2008. Liu failed to start his 110 metres hurdles first-round heat on Monday. After one false start Liu stopped before the first hurdle clutching his leg and then walked out of the stadium.[Agencies]
BEIJING--Chinese fallen hero Liu Xiang' injury to his right Achilles' tendon will not force him out of competitive sport, a top Chinese athletics official said here on Saturday.
Feng Shuyong, head coach of the Chinese national track and field team, said, "Liu Xiang's pain has eased. Medical experts said that the injury is healable and will not affect his career."
The long jumper-turned official added, "I believe that after a period of recuperation, Liu Xiang will definitely resume training and the injury will not prevent him from improving his result.
"He is only 25 years old. He can compete in the London Olympic Games. We all hope he can return to the track as soon as possible and pay back all the Chinese people for their love," said Feng.
Liu pulled out of the Olympic 110 meters hurdles first round citing a recurrence of chronic inflammation in his Achilles' tendon. But he said on Thursday in a Shanghai newspaper that he will "come back stronger."
The former Olympic champion was awarded the 2008 Coca-Cola "Live Positively Award in the Olympic Green. Liu failed to show up and Feng, on behalf of Liu, was presented the award.