BEIJING -- Maris Strombergs, reigning world champion from Latvia, clinched the first-ever Olympic men's bicycle moto cross (BMX) gold here Friday, beating the Games' favorites Mike Day and Donny Robinson from the United States.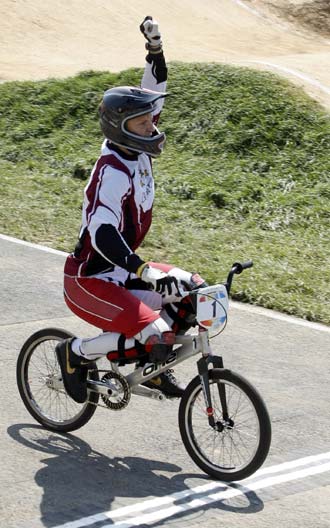 Gold medallist Maris Strombergs of Latvia celebrates after winning the men's BMX cycling competition at the Beijing 2008 Olympic Games August 22, 2008. [Agencies] 

Strombergs took the lead of the eight-strong final squad from the very beginning, and finished the run at 36.190, leaving Mike Day and Donny Robinson far behind at 36.606 and 36.972 respectively.
Strombergs won the title of the 2008 BMX world championships held in Taiyuan, Shanxi Province, in last May. He is leading a new generation of European riders challenging the established U.S. Squad.
"It doesn't matter if it is the Olympics, the world championships or the European championships, the feeling is the same. I see no difference between my competitors, whether they come from the United States or New Zealand," said Strombergs, noting that he kept cool and concentrated for the whole race.
On his tactics at the final run, the Latvian cyclist said he didn't come out with a game plan.
"I was just trying to take the gate and come out first. I just raced my race and it came out for the best."
On the Beijing Olympics, Strombergs said gratefully that it feels almost like home, labelling it as "great".
The 21-year-old Latvian has been riding BMX for 16 years, and taken as a veteran despite his age.
"I'm still young. I have plans for the future, and I have a lot more to accomplish," he said. "This Olympic gold is only one step in my career."
Earlier Friday, Anne-Caroline Chausson from France won the women's BMX gold, upsetting the Games' favorite Shanaze Reade from Britain.
The International Olympic Committee on June 29th, 2003, decided to introduce BMX at the 2008 Olympic Games in Beijing. The sport which rooted in the late 1960s in southern California has brought a wild flair packed with youthful energy and colorful characters to the Games.