It was hard to miss Roqaya Al-Gassra racing around the Bird's Nest track this week. The Bahraini sprinter qualified for the 200m semifinal in 22.76 sec, beating Muriel Hurtis-Houairi of France and Sri Lanka's Susanthika Jayasinghe and she did it wearing traditional hijab head covering.
The 25-year-old speedster missed out on a finals berth by 0.1 of a second.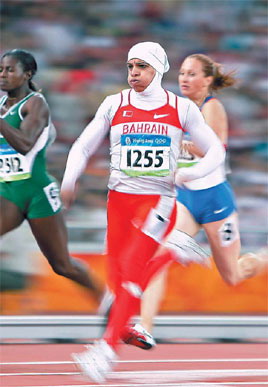 Roqaya al-Gassra competes in Beijing. [Xinhua] 
Al-Gassra also wears a full-length body suit, which leaves only her hands and face exposed, and is the only elite performer on the international athletics circuit to don such an outfit.
"Wearing traditional Muslim dress has encouraged me. It's not an obstacle, it's quite the opposite," Al-Gassra said after winning the 200 at the 2006 Asian Games in Doha, Qatar.
"I feel very special to be in this situation, and I don't feel any pressure by it."
Wearing the white hijab and the eye-catching red full-length suit, Al-Gassra is used to drawing attention.
She made her Olympic debut in the heats of the 100m at Athens four years ago and has powered on to become the reigning Asian Games champion. She has also competed on the prestigious Golden League circuit.
Al-Gassra was the first woman to win an athletics race at the West Asian Games competing in the 100m at the 2005 edition. Women had not competed in the two previous regional meets.
This year, Al-Gassra has run an Arab 100m record of 11.12sec, a time that would have put her into the 100m Beijing final if she had chosen to contest the event.
The 25-year-old has also run 200m in an Arab record of 22.65 at the Rome Golden League meeting last month to show that she is at ease with the fastest women in the world. She has also a wind-assisted mark of 22.45 to her credit.
Al-Gassra says her outfit is a personal choice.
"Wearing the hijab shows that there are no obstacles," she said at Doha. "I've set my best times wearing the hijab."
In the past, Al-Gassra has run in a light cotton hijab but in Beijing she is running in a close-fitting hood designed by an Australian sportswear company.
"It's great to finally have a high-performance outfit that allows me to continue my need for modesty with a design made from fabric that allows freedom of movement and flexibility," Al-Gassra told Spikes Magazine.
"I hope that wearing this type of sports top will inspire other women to see that modesty or religious beliefs don't have to be a barrier to participating in competitive sports."
Al-Gassra was also elected to carry Bahrain's flag at the Opening Ceremony in Beijing.
"I feel very proud to have been selected. It is a great honor and a dream come true for me," she said.
"I'm proud to be representing my country at these Olympics."
Agencies
Muslim women make history at the Games
1964: Iran sent its first female athlete to Olympics.
1984: Nawal El Moutawakel of Morocco became the first Arab woman to win a gold medal when she came first in the 400m hurdles at the 1984 Los Angeles Games