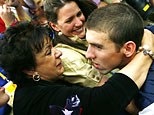 Michael Phelps' mother Debbie hugs her son after one swimming competition at the Beijing Games. [Agencies]
During Michael Phelps' races, camera shots of his mother Debbie were a fixture on NBC. The network showed endless replays of her falling to her seat after that memorable 100 butterfly finish.
Debbie even watched one race on camera with Cris Collinsworth, squeezing his knee the entire time.
And after her son won his eighth gold medal, Debbie was all over NBC getting interviewed by Bob Costas, Matt Lauer and Meredith Viera.
Michael's sisters, Hilary and Whitney were also in Beijing cheering on their little brother.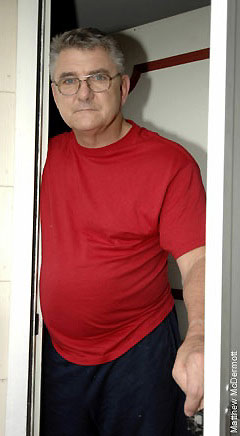 All this coverage of the Phelps family led to one obvious question from our readers: Where was Dad?
It's been well-documented that Debbie and Fred Phelps divorced when Michael was 9.

Beyond that, little else has been publicized about Michael Phelps' father.

Today the FPMIU looks into the mystery of the whereabouts of Michael Phelps' father.
Fred Phelps is a retired Maryland State Trooper, lives in a suburb of Baltimore and has remarried since divorcing Debbie Phelps in 1993.

According to the Baltimore Sun, he watched the Olympics from his home, saying he was "on pins and needles" every time Michael dove into the pool.

But, the New York Post reported that Fred has yet to call his son to congratulate him on his Olympic accomplishments.
Following the divorce, Fred Phelps had little contact with his son. Prior to the 2004 Olympics, Michael told a reporter that his father hadn't even called to congratulate him when he set his first world record.

However, the two reconciled prior to the Athens Games and Fred even made the trip to watch his son win six golds and two bronzes. Since then, however, the relationship has reportedly fractured.
Fred Phelps declines most interview requests, citing a desire to have the focus remain on his son.