Wang Meng quit driving his car after Beijing adopted the current plan allowing cars on the road on alternate days based on license plates ending in odd or even numbers. Even on the even-number days, when he is allowed to drive, Wang still rides his folding bicycle to and from work at the International Broadcasting Center in the Olympic Green.
Not only that, the 27 year-old Beijing native has installed energy saving light bulbs in his home.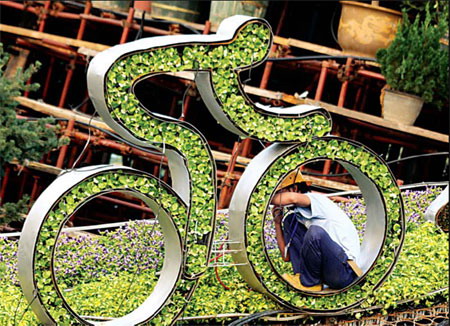 A worker fixes a "green" cyclist at Tian'anmen Square to celebrate the Olympic Games. [China Daily] 
This summer, he started to use an electric fan instead of the air conditioner in the evenings when it is not too hot because it is "healthier", he said.
Wang Meng is not the only one whose daily life has gone through some subtle changes in recent months, as the city encourages the public to play an active role in protecting the environment - part of its efforts to hold a "Green Olympics."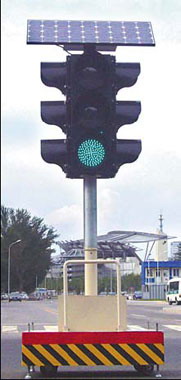 A movable solar-powered traffic light near the Olympic Sports Center. [China Daily] 
Many residents in Beijing are changing their habits to embrace a greener lifestyle. In the public's mind, there is a growing awareness of energy saving and environmental protection.
"The stringent overall environmental requirements of the Olympic Games actually served as a catalyst for various measures and the countdown to the Games made it even more urgent for the entire society to take action, " according to Zhang Lingge, an environmental awareness promotion project researcher at the Environmental Defense Fund, a US-based nonprofit organization.
Living near the north Fifth Ring Road of the city, Wang Meng has witnessed an increase in the number of bicycle riders.
"The 25-minute ride is not troublesome at all. For me, it's just picking up an old habit again. In middle school, I used to ride my bicycle every day, as most of my classmates did," Wang said.
The recent hike in the price of gasoline also contributes to the increase in people using pedal power, he added.
Wang bought five energy-saving light bulbs at 1 yuan each, thanks to subsidies from both the central government and the Beijing municipal government for downtown residents, and installed all of them.
"These bulbs can help cut my electricity bills in the long run," he said. "Besides, they are not that expensive."
Wide media coverage on the threat of global warming and the urgency of environmental protection has contributed to raising public awareness.