HONG KONG: For years, Russian rider Alexandra Korelova quietly observed a particular police horse that lived at her riding club's stables and decided that he was a champion.
Balagur, a grey stallion so pale that he appears to have been daubed pink in places, made such an impression on Korelova between his shifts with the local police that she decided to speak to her trainer about the horse.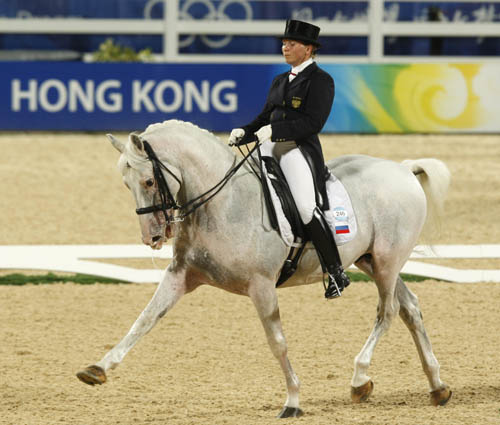 Alexandra Korelova of Russia rides her horse Balagur during the equestrian dressage grand prix competition at the Beijing 2008 Olympic Games in Hong Kong August 14, 2008. [Agencies]
"I saw him for a long time, for years, and I spoke with my trainer, who said 'take him now quickly and come to me,'" said the 31-year-old from Nizhny Novgorod, in Russia's north-west.
"(My trainer) saw in this horse a personality and character, and made a sportsman out of him."
Korelova rode Balagur to grab sixth place in the final of the Olympics individual dressage grand prix on Tuesday with a score of 72.625 percent. The event was won by the Netherlands' Anky Van Grunsven with 78.68 percent.
In Hong Kong's Olympic arena under floodlights and a bright moon, Balagur arched his thick, short neck and piaffed and pirouetted his way to Broadway musical themes.
"When he sees such a big public and such a big stadium he likes to be the best and (do) a little bit more than anyone else," said Korelova. "I like this music and my horse likes it too."
The razzle-dazzle of freestyle dressage, where riders choreograph balletic movements for their horses to music, is a far cry from Balagur's previous drudgery with the Russian police.
"First, he's very clever, and second, he doesn't want to go back to the police. He understands that his life is better and more interesting now," Korelova said.