Argentina's crushing 3-0 win over Brazil in their Olympic Games semi-final was another demonstration of how the two great
soccer
rivals have swapped roles in the last few years.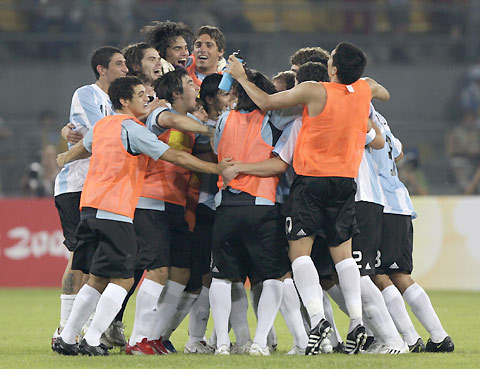 Argentina's players celebrate their victory over Brazil in their semi-final soccer match in Worker's Stadium during the 2008 Beijing Olympics, August 19, 2008. [Agencies] 
Argentina, often associated with pragmatic defence and gamesmanship, have adopted a stylish, passing game while Brazil have exchanged their previous flamboyance for brute force and counter-attacks.
Although Olympic soccer is an under-23 tournament, with three over-age players allowed in each squad, Tuesday's semi-final teams were mirror images of the senior sides.
Argentina, inspired by forward duo Sergio Aguero and Lionel Messi, provided the artistry and Brazil, led by senior coach Dunga, used rough-arm tactics that resulted in red cards for midfielders Lucas and Thiago Neves in the last 10 minutes.
"We won in the way we like to win, we kept faith in our style of play and we won deservedly," said playmaker Juan Roman Riquelme, an over-age player.
Argentina coach Sergio Batista said his team had learned the painful lessons from last year's Copa America final in Venezuela, when the Brazilian style prevailed.
On that occasion, Argentina went into the final as hot favourites after sweeping their way to five successive wins with flowing football. But they ran into an ambush.
Brazil struck an early goal, managed to nullify Riquelme and Messi, hit them on the counter-attack and ran out emphatic 3-0 winners.
"We've learned the lesson that with Brazil, you have to wait for them and not go straight out and attack," said Batista, who is only in charge of the Olympic team.
"We knew that Brazil would wait for us and that we had to have patience and not rush into attacking them. We played a great game in every sense and in every part of the field."
Despite the limitations of the Olympic tournament and the lack of interest in Europe, Argentines felt Tuesday's win had helped wiped out a series of bad results against Brazil.
Before the Copa America final, Argentina had also lost their previous two senior meetings by three-goal margins.
In an online poll organised by the Clarin newspaper, 63 percent of readers agreed that Tuesday's win was the most enjoyable game the national team has played in the last 10 years.
Riquelme said it bettered their last senior win over Brazil in a World Cup qualifier in 2005.
"That was an incredible win as well, when we scored three goals in the first half but this was is special because we are in the final," he said. "I hope it has made our country happy."